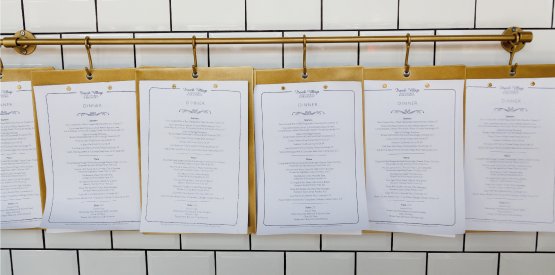 French Village Bakery brand is one that we work closely with and so when the team at French Village Catering came to us to discuss a new Patisserie & Brasserie, it was a project we couldn't wait to get started on!
With Ashley French hand crafting each and every one of the pastries for launch we knew the attention to detail had to be just right.
Our first action was to look at the parent and sub brands to carefully craft the new logo to sit alongside it's counterparts, French Village Bakery, Cafe/Bistro, Catering and now Patisserie & Brasserie.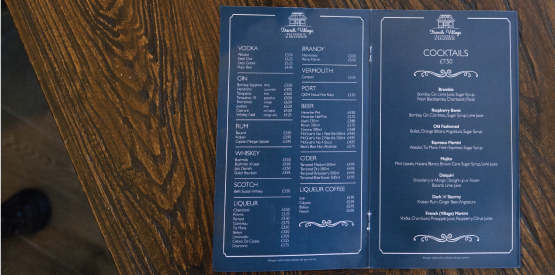 We then researched the interior colour and texture palettes so that we could match and contrast effectively in the space. The style brief was to create menus that were classically French, elegant black type on white with considered flourishes to highlight.
Our process for solving the design problem was to create menus that could easily be printed in house with specials templates that could be populated daily under chef's instruction, making day-to-day running smooth and functional.
The post launch drinks menus are ooh la la! Cloth outer with foil blocking to introduce the vast array of gin and cocktails selection. We can't wait to try the French (Village) Martini!