We print business cards for many industries, however working with local Tattoo artists, we have become aware of the unrivalled creativity and skill level they bring to their work and ultimately their marketing materials.
Recently we were re-printing the below cards for Helen, the artist in residence at Skullduggery Tattoo, Dublin Road, Belfast. This is one of our most favourite orders as combining non-standard media with a high quality print and superb design, we have created a fantastic showcase for Helens' work and a business card she can be proud to hand out and events and exhibitions.
Print Specification
The business cards below were litho printed using a single colour press. The card itself is a reclaimed board more commonly used as a backing to our NCR books or notepads. This bespoke card takes on a more rustic feel and with the pin point accurate litho print, the black stands off against it perfectly. The board itself is heavier than normal also which provides longevity of the print.
Tattoo artist business card designs
With the nature of their business, tattoo artists are visually expressive and their business card must represent this. It must also convey their style of work in a manner that fits their personality. As you can imagine, designing the perfect business card for a tattoo artist is no easy feat. However, we've found these amazing examples of business card design that we think will guide and inspire you with your own projects.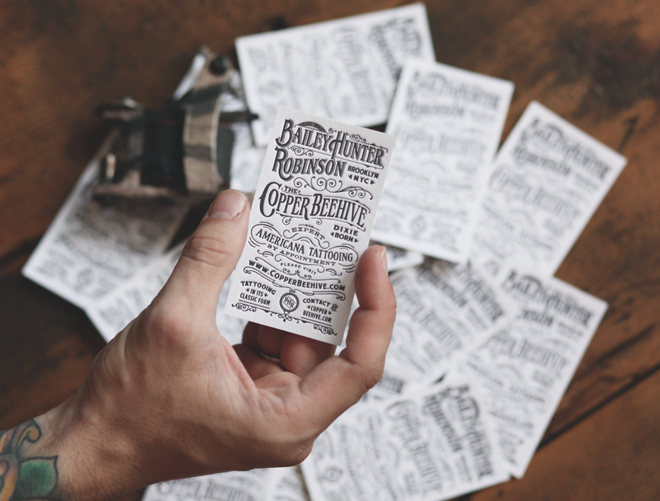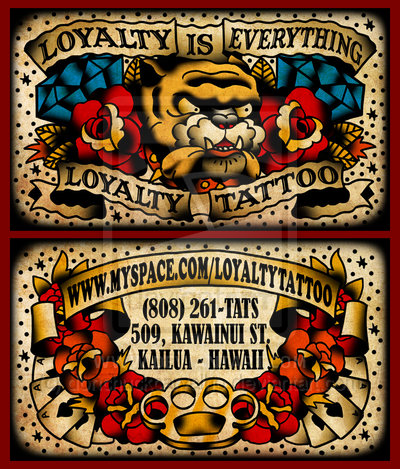 Designing your own business card – Tattoo artist
For tattoo artists, business cards are a very personal project they have to undertake. Many business card designs are based on their actual work. This means we have to work closely with the artist to bring their ideas and creative into a format suitable for printing. If you plan on using your own creative work as part of your business card design, there are a few simple steps we need to follow.
As a tattoo artists the steps to designing your own business card are:
Create your artwork at a size much larger than the printed size – we need to scan your artwork in to bring this into our design program. If you create your artwork at a much large size, but in the same scale as we print, when we reduce the artwork down, this will ensure the highest quality printing
Avoid intricate details – If we need to manipulate your artwork for print, this may require digitising it. Intricate details may need to be removed in order to print. Bold designs work best.
Remember your critical information – Business name, address, email and telephone number are a must on almost all business card designs.
Check your details twice – We've lost count of the reprints we've undertaken for incorrect telephone numbers. Even if you're sure the details are correct, check them one last time. It'll be worth it, promise.
If you're a tattoo artist planning to order some business cards, speak to us. We're not only expert printers, but our team of graphic designers in Belfast are among the most talented around. It's our business to help your business grow, so if you have a question or want to get your business cards ordered, call us today on 028 9002 2474.