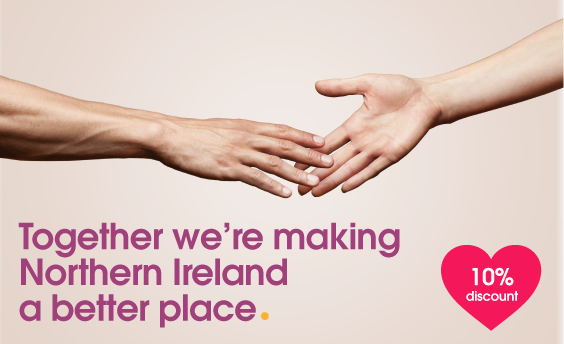 As your printer, we have only your best interests at heart.
Not only will we at Kaizen advise you on the most efficient way to conduct your marketing, but we're making our print service even more cost effective. I know, how can that even happen!! It is our experience in print and marketing is what will save you time and money but from March 1st 2016 all registered charities and churches can also benefit from a
10% discount on all their printed products. No quibble.
In order to be fair and transparent with all our customers we took the decision to provide support for you all equally as opposed to an individual charity each year. This way we let
no one down and keep our entire customer base happy. You'll still get the same great print and service, just 10% cheaper.
We're committed to supporting Northern Irelands good causes and to avail of the
charitable and church discount.
Please sign up for a user account (kaizenprint.co.uk/customer/account/login) our site and then email us at sales@kaizenprint.co.uk with your charity number. We'll apply the discount to your account right away making it easy for you to order online in minutes.