Meet the team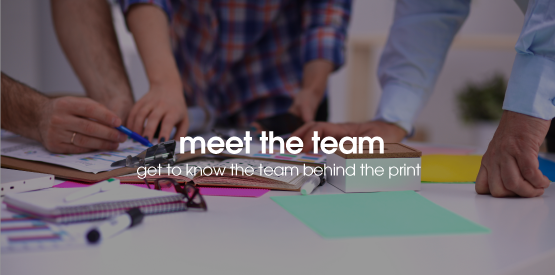 Connor McAuley
Managing Director

Heading up the Kaizen Print Team, with over 18 years of experience in print and marketing, Connor has an unrivalled passion for all things design and print and loves nothing more than advising his clients on the best methods of print for new campaigns and is a strong believer in the power of printed products as a marketing tool.

Outside of the office, Connor enjoys spending time in his growing allotment and listening to Fat Boy Slim.
---
Martin McAuley
Managing Director

As partner in Kaizen Print, Martin has a wealth of knowledge of various printing techniques and is always willing to go that extra mile for all his clients. Thanks to his high levels of customer service, since being at Kaizen, Martin has developed a plethora of regular print clients across various industries. Focused on developing and maintaining strong relationships with customers, there isn't a print enquiry that Martin can't answer!

When he isn't busy with his family, Martin enjoys watching the football with a nice cold beer.
---
Glenda Johnston
Account Management

With over 5 years of experience in publishing, marketing and print, account manager Glenda works alongside the rest of the sales teams and with a variety of Kaizen Print clients, new and established, to advise on all things design and print related. Glenda prides herself on her ability to identify clients design needs and the most effective methods of print for them.

Glenda is the Kaizen Print resident Foodie, if she isn't out eating, you can catch the places she goes and food she eats all on her colourful instagram.
---
Robert McCluskey
Digital Print Sales Exectuve

Robert joins kaizen print with over a years previous experience in print sales and believes kaizen print offers him the perfect opportunity to push his ability even further. Robert has previous experience in graphic design, studying an HNC in graphic design at Belfast Met and found a passion in print because even though he isn't a designer takes great pride in helping customers throughout the creative printing process, seeing their ideas become real and helping the customers realise their ambition and seeing it come to life.

When Robert isn't working hard securing the next sale he enjoys exercising in the great outdoors, going for runs and going fishing. When he's not exercising Robert loves kicking back and watching the footy, especially when his favourite team are playing, the mighty Liverpool.
---
Georgina Barrett
Digital Print Sales Executive

Georgina has spent over 17 year working in the Print Industry and now brings this experience and knowledge to Kaizen Print. She has often worked on a range of different sales jobs, with a wide variety of clients, so it is safe to say she knows what she is doing. Her goal is to help drive our sales team forward and make sure that all sales targets are being met, whether it is daily, weekly or monthly.

If Georgina isn't in the office, she will often be at home helping out her young daughter who occupies most of her time, whether it is taking her to the local park or getting the whole family in the car to go on an adventure they can all enjoy.
---
Eileen Doherty
Outbound Sales

Eileen joins the team with 25 years previous experience working in the media industry in various sales management and business development roles making her a strong asset to the sales team. Eileen has a strong passion for sales and is more than happy to go the extra mile for her clients, no job is too small or too large. She is a big believer that the customer is the heart of the business and building and maintaining relationships with clients is the most vital aspect of her job.

When Eileen isn't fussing over her clients she loves travelling to new spots for short city breaks. Although admittedly prefers nothing more than catching up with her friends and family over a cheeky Gin and Tonic.
---
Sarra Allen
Wedding Sales Executive

Sarra heads up our sister brand Kaizen Weddings, as our wedding stationery specialist. She will be your first point of contact when you come in for your appointment. Throughout her day to day, she will be quoting on stationery, consulting on designs and paper stock and finally getting the stationery to the clients. Previously, Sarra has spent 5 years working as a receptionist, so she is well versed in dealing with customers face to face. Sarra knows first hand the effort that goes into planning a wedding, and as such wants to help ease some of the stress for the couples that come through our doors.

When she isn't helping the latest couples get their perfect wedding stationery, she can often be found either running a 10k or spending quality time with her husband and their little french bulldog Douglas who she absolutely adores.
---
Travis Todd
Digital Print Sales Executive

Travis joins Kaizen Print as a digital print sales executive, he has eight years of sales under his belt in a number of industries such as the building industry and online business set up. He joins kaizen with the ambition of furthering his already vast skill set and hopes to thrive within the print industry. Travis understands print sales is a difficult sector to master but Travis loves a challenge and beleives Kaizen Print offers the perfect platform to grow.

When Travis isn't pampering his current clients with the best deals you can find him training in long distance running all over Northern Ireland or carrying on his competitive nature by playing off against other players in online games.
---
Stewart Scott
Digital Print Sales Executive

Stewart joins Kaizen Print with a wealth of experiance in the print industry. Before working at Kaizen Stewart worked as a print production manager for two years, before this he worked in a lithographic printers for twelve years, making him more than qualified for the role. Although he loved working in production he has decided to venture into the print sales industry, trying his hand at something different in an attempt to diversify his skill set and continue to grow.

Stewart was born and raised in South Africa so he eats, sleeps and breathes rugby stating "it's in my blood". He is also a big fan of music and has a very ecliptic music taste. When he's not in the office you can find him out and about looking for the best spots to grab a bite to eat and watch the rugby.
---
Chloe White
Receptionist

Chloe joins Kaizen Print as our new Receptionist, while also dealing with some of our admin work. Previously Chloe has experience in this very sector, having worked for Crowne Plaza and HCL Technologies. She has worked in the customer service industry since 2015, so we think it is safe to say she knows what she is doing! Chloe will be the face that customers, clients and staff see as they enter the building. She welcomes everyone to our workplace and makes sure that everyone is directed to where they have to go if it is required, such as taking clients up to their meetings.

Outside of work, Chloe likes to keep herself busy, either by going to the gym, checking out the newest Vegan restaurants around Belfast or going on spontaneous adventures across the country!
---
Jasmine Phillips
Admin
---
Steffi McNeilly
Print team Co-Ordinator

Based in the production room with a wealth of experience in design and print, Steffi works closely with all departments within the company, including the sales, design and production team, to ensure all jobs in the print room run as smoothly as possible. Need a job rushed through or want to ensure that artwork is set up for print correctly - Steffi is our go to for these sorts of tasks.

When Steffi isn't setting up artwork for print or ensuring that the Kaizen Print jobs are all printed in time, you'll either find her fawning over dogs (she is a huge dog lover!) or shaking up a cocktail or two with a keen interest in mixology.
---
Pete Edmunds
Print Specialist

With over 15 years experience within litho and digital print, Peter oversees all our digital printing and checks your artwork before it goes to print. Peter is customer focused and prides himself on ensuring that the print team meets all our clients deadlines and is meticulous in checking all artwork before it goes to print.

Watch out pubs of Belfast, Peter loves a good pub quiz and in his free time enjoys drawing illustrations.
---
Darrin Hall
Print Specialist

Need a job finished to perfection? Fear not, Darrin is here! With a wealth of experience in the print trade, Darrin's expertise lie in the finishing of our printed products. Once all your items are printed and on flat sheets, Darrin is the member of the team that brings the print into it's final stages by folding, stitching, trimming and laminating them to name a few processes.

Outside of the print room, you'll find Darrin watching his beloved football team the gunners and listening to a bit of Kasabian.
---
Ralph Connolly
Print Specialist

Ralph is part of the production department and works closely with the print production co-ordinator and finishing team specialising in printing all of our digital print jobs coming through. If we need to check how something is going to print or what's the most effective way to print something, Ralph is our go to go. With over 15 years experience in the print trade, Ralph has a sharp eye over all of our digital print and prides himself on his attention to detail with every job he prints.

When Ralph isn't working in the print room, he enjoys nothing more than a jam on his base guitar and creating some nice illustrations!
---
Carlos Valentin
Finishing expert, small & large format

As part of the production team Valentine works as a finisher putting the final touches to both small and large format jobs when they are printed. On a day-to-day basis, you'll find Valentine wirobinding books, laying vinyl onto foamex boards and stapling booklets, to name a few things!

Valentine is our go to man for any tricky finishing or DIY projects and is the king of practical solutions! When Valentine isn't helping us in Kaizen, he is extremely talented at wood work and has made several beautiful creations for presents for some of the Kaizen Team.
---
Jackie Napier
Pre-press Specialist

With a Bachelor's Degree in Design and over 2 years working as a pre-press co-ordinator, Jackie is the perfect fit to be our pre-press specialist. He is joining our team at a very exciting time but also an important time, and his hope is that he can help Kaizen Print to grow and keep the jobs that go to our printers perfect, ensuring no mishaps or hiccups along the way.

If Jackie isn't helping to keep the Kaizen Print ship steady, you can often find him spending most if his free time either at the gym or chilling out at home with his children. He is also a massive music fan, and loves to go out and catch up with his mates.
---
Stevie McCourt
Delivery Driver

As our full-time driver, Stevie is the guy you will see out and about in our Kaizen van. Steve joins us with a wealth of experience in the delivery service industry. You name a place to deliver and he knows it! Stevie is our go to guy helping us deliver proofs, samples and full deliveries to all our clients, both on time and most importantly to the right person!

When he's not busy delivering to all our clients, Stevie loves getting out on the golf course on a Wednesday afternoon.
---
Aiden McKenna
Apprentice print finisher

After working with a clothing line for five and a half years Aiden joined Kaizen as an apprentice print finisher to expand his knowledge on all things print. Aiden will be shadowing James, our large format specialist and relishes the opportunity to learn such a delicate and precise skill, Luckily he's learning from one of the best in the business. Aiden has already shown great knowledge when it comes to colour and design, easily pointing out any errors ensuring all print going out is flawless.

Outside of work Aiden loves learning about other cultures, languages and politics. He jumps at any opportunity to travel so he can expand his knowledge of other cultures.
---
Pearse Moreland
Apprentice print finisher

Pearse a graduate in mathematics at Queens Belfast joins Kaizen as an apprentice print finisher. He will be learning from one of kaizens best, Carlos hoping to learn all there is to know about print finishing. Pearse jumped at the chance to work with kaizen and has already shown himself as a great asset using his passion for numbers to ensure all the work he puts out is precise.

When not learning the tricks of the trade pearse likes to keep his mind sharp by regularly playing sudoku and reading fiction. Other than this you can find Pearse out socializing with his mates at local gigs and bars.