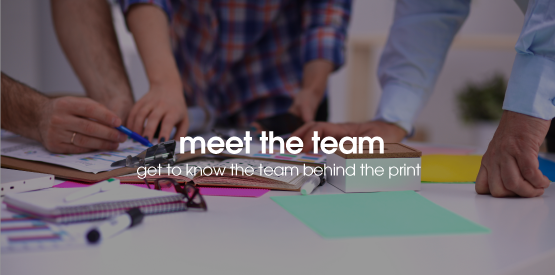 Connor McAuley
Managing Director

Heading up the Kaizen Print Team, with over 10 years of experience in print and marketing, Connor has an unrivalled passion for all things design and print and loves nothing more than advising his clients on the best methods of print for new campaigns and is a strong believer in the power of printed products as a marketing tool.

Outside of the office, Connor enjoys spending time in his growing allotment and listening to Fat Boy Slim.
---
Martin McAuley
Managing Director

As partner in Kaizen Print, Martin has a wealth of knowledge of various printing techniques and is always willing to go that extra mile for all his clients. Thanks to his high levels of customer service, since being at Kaizen, Martin has developed a plethora of regular print clients across various industries. Focused on developing and maintaining strong relationships with customers, there isn't a print enquiry that Martin can't answer!

When he isn't busy with his family, Martin enjoys watching the football with a nice cold beer.
---
Glenda Johnston
Account Management

With over 5 years of experience in publishing, marketing and print, account manager Glenda works alongside the rest of the sales teams and with a variety of Kaizen Print clients, new and established, to advise on all things design and print related. Glenda prides herself on her ability to identify clients design needs and the most effective methods of print for them.

Glenda is the Kaizen Print resident Foodie, if she isn't out eating, you can catch the places she goes and food she eats all on her colourful instagram.
---
Matt Kennedy
Digital Print Sales Executive

Matt joins our outbound sales team to help reconnect with older clients and introduce Kaizen to people who haven't worked with us before.

Coming from an outbound sales background, Matt brings over five years of sales experiences to the team and enjoys working in a fast paced and target driven environment and bringing new commercial work into companies.

When Matt isn't pursuing hot sales leads, being from South Africa he's a big Rugby fan, so loves nothing more than chilling and watching a game.
---
Lisa Edmont
Digital Print Sales Executive

As an Account Manager, Lisa works in the inbound sales team, looking after current clients and striving for new clients on a daily basis. Lisa prides herself on being results driven and with a determined head on her, you'd be a fool not to take a good offer from Lisa! With a background in both design and sales, Lisa uses both her technical knowledge and experience in her selling and enjoys nothing better than closing a big sale!

When Lisa's not in the sales office, she loves motorbikes and getting out on her bike is one of her favourite past-times.
---
James Owens
Print Specialist / Large format

Having been with the Kaizen Print Team from the very beginning, our resident rocker James has developed a deep knowledge of both digital and large format print over the years. Managing all our large format printing and fitting, James is also who you might see out on the road in our grey Kaizen Van, or out the front of a shop or restaurant fitting some print.

When he's not concentrating on a big large format printing project, James enjoys rocking out with his band mates and can tell you the best vegan eateries in town.
---
Darrin Hall
Print Specialist

Need a job finished to perfection? Fear not, Darrin is here! With a wealth of experience in the print trade, Darrin's expertise lie in the finishing of our printed products. Once all your items are printed and on flat sheets, Darrin is the member of the team that brings the print into it's final stages by folding, stitching, trimming and laminating them to name a few processes.

Outside of the print room, you'll find Darrin watching his beloved football team the gunners and listening to a bit of Kasabian.
---
Steffi McNeilly
Print Production Co-Ordinator / Artworker

Based in the production room with a wealth of experience in design and print, Steffi works closely with all departments within the company, including the sales, design and production team, to ensure all jobs in the print room run as smoothly as possible. Need a job rushed through or want to ensure that artwork is set up for print correctly - Steffi is our go to for these sorts of tasks.

When Steffi isn't setting up artwork for print or ensuring that the Kaizen Print jobs are all printed in time, you'll either find her fawning over dogs (she is a huge dog lover!) or shaking up a cocktail or two with a keen interest in mixology.
---
Carlos Valentin
Finishing expert, small & large format

As part of the production team Valentine works as a finisher putting the final touches to both small and large format jobs when they are printed. On a day-to-day basis, you'll find Valentine wirobinding books, laying vinyl onto foamex boards and stapling booklets, to name a few things!

Valentine is our go to man for any tricky finishing or DIY projects and is the king of practical solutions! When Valentine isn't helping us in Kaizen, he is extremely talented at wood work and has made several beautiful creations for presents for some of the Kaizen Team.
---
Stevie McCourt
Delivery Driver

As our full-time driver, Stevie is the guy you will see out and about in our Kaizen van. Steve joins us with a wealth of experience in the delivery service industry. You name a place to deliver and he knows it! Stevie is our go to guy helping us deliver proofs, samples and full deliveries to all our clients, both on time and most importantly to the right person!

When he's not busy delivering to all our clients, Stevie loves getting out on the golf course on a Wednesday afternoon.