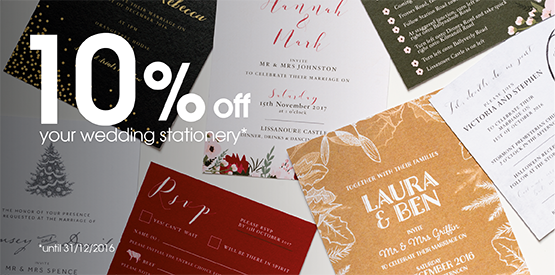 After running our hugely successful competition to win up to £250 worth of wedding stationery, to show our huge appreciation to those of you who showed an interest in getting your wedding stationery with us, we are now running a new offer to get 10% off your wedding stationery sets between now and Christmas!
For those of you who know Kaizen but don't know about Kaizen Weddings, we thought this week we would give you a full run down of the full services we can provide for brides and grooms to be for before, during and after the wedding day, and indeed what you can get 10% discount on.
Let's start with your planning before the wedding day, and even before the invites go out. Some items you might already be thinking of, should you be newly engaged and have set a date, are save the dates and perhaps items such as be my bridesmaid cards. We can both design and print these items for you in a variety of designs and beautiful cards that are sure to make a first big impression of your wedding day to both your wedding party and guests!
Once your wedding guests know the date and you've got your wedding party organised, wedding stationery items that you may then be thinking about that Kaizen Weddings can help you with include:
- Wedding day and evening invites
- RSVP Card
- Information Card
- Gift cards
After you've sent all your beautifully designed and printed stationery out and have received your rsvps back and have final numbers, you will then be starting to plan any printed items for the day itself.
Sometimes venues may provide some stationery for the day, but we find a lot of our clients like to put their own stamp on their wedding day stationery. Items we include in our stationery sets for the actual day include:
- Welcome signs
- Place Card
- Table plans
- Order of services
After the big day is over, the last item of stationery you will have to think about will be your thank-you cards. We can also include thank-you cards in our stationery sets, which can either tie in with the rest of your stationery design or photos designed with in keeping fonts are also extremely popular for our thank-you cards.
Here at Kaizen Weddings, we can create bespoke stationery sets, so if there are items you perhaps don't need or items you do need that you can't see listed, we are always more than happy to make up unique sets for our clients. Every bride and groom and wedding is unique and we pride ourselves on the bespoke elements of our work.
If you are starting to plan your wedding - get in touch for a free consultation! Either call us on 028 9002474 or email us at weddings@kaizenprint.co.uk. Our studio is also open 9-5pm Monday - Friday and we welcome any walk-ins.