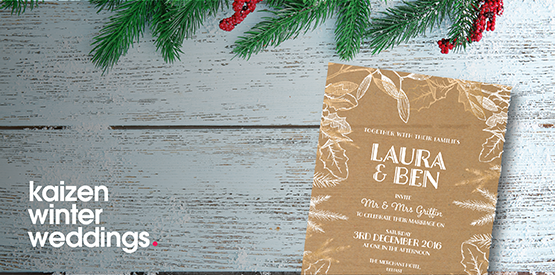 Having your wedding during the winter months from September to December gives you so much scope to use different types of designs and materials for your stationery than you would in the summer months. We've noticed the increasing popularity of the winter wedding and have put together some ideas and inspiration for your dream winter wedding!
Your design and colour scheme will be one of the first things you are thinking of when choosing your wedding stationery. When we mention winter wedding stationery, people often assume a Christmas themed invite. We're here to say that's not always the case and there are many subtle ways you can incorporate this beautiful season into your wedding stationery set.
Alternatively, if your wedding is right in the middle of the festive period, you may want to celebrate this fact and incorporate some Christmas themed items into your stationery! Nothing wrong with a hint of Christmas Cheer!
If you are going for the subtle approach, one way of doing so is to use a hit of greenery in your design, which can often create a nice winter theme, without going too Christmassy. We have also found around this time of year that silver and grey is extremely popular with our brides and grooms to be, once again giving that subtle undertone of the season. These types of designs and colour schemes can be complimented by being printed onto pearl, frosted white or kraft card (All of which Kaizen Weddings of course hold in stock!)
Alternatively, if your wedding date is closer to Christmas and you really want to go that extra mile and mark the season and occasion in style, then you may want to consider designs with red floral or perhaps a wreath design, which will really emphasise the season. These types of designs can also really stand out with a silver or gold foil print, making your winter invites truly sparkle with your guests!
If you are currently planning a winter wedding and need some inspiration with your wedding stationery, get in touch! We love to meet all our brides and grooms to be and welcome anyone to call in for an initial free consultation and which also includes complimentery paper swatches and samples. If you would like further information on our winter stationery sets or would like to discuss the stationery for your big day, please also feel free to drop us a call or email on 028 9002 2474 or weddings@kaizenprint.co.uk