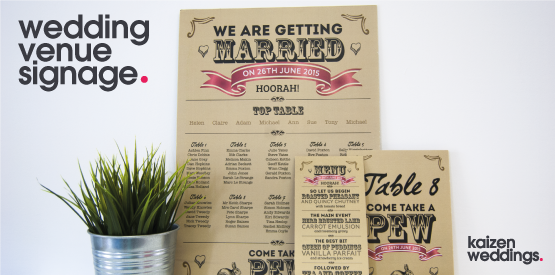 With a lot of venues, you may find that it is down to you to ensure that those finishing touches, such as nice wedding venue signage, are in place. Wedding signage can not only compliment the venue itself but also serves as a practical use for your guests and can also make sure they know about any special activities you have in place that you have invested in to ensure they get the best out of them!
Items to consider for the venue and wedding breakfast include:
- Table Plan
- Place Cards
- Table Numbers
- Menus
Table plans can be printed on a rigid foamex board if it is to sit on an easel for example or if your table plan is going into a frame then we can print a poster style plan. Other items such as place cards, table numbers and menus can be printed on a thick and high quality board. The design of these products are usually a continuation on from your wedding invites and helps reiterate the theme and style of your wedding to your guests.
On top of these types of items, other signage that can add that special touch to the venue can include:
- Welcome sign
- Direction signs if your venue is a little out of the way!
- Signs advising people where to sit in a church or ceremony venue
- Itinerary for the day
- Anything else you want to say to your guests!!
These types of signs can once again be printed on a foamex board, which is great for propping up in any type of wedding venue. Here at Kaizen Weddings we find that we are designing and printing such a variety of wedding signage as what every couple wants to say to their guests and in what manner can vary greatly. Whatever you want to say to your guests, we can design and print for you!
For a free consultation to discuss items for your wedding venue with one of our Kaizen weddings team, please feel free to call us on 028 90022474 or email weddings@kaizenprint.co.uk