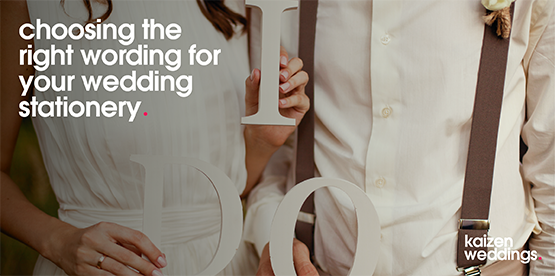 You've finally chosen your design and print options for your wedding stationery and now have to send over all the information to your wedding stationer and suddenly realise that you don't have a clue what you actually want your invites to say! This is a common problem and this week at Kaizen Weddings we look at some of the choices and obstacles you can come across when choosing wording for your wedding stationery.
Like many things that crop up when planning a wedding, this may not have been something that you have even began to think about when selecting your wedding stationery, however it's something that you may like to keep in mind when going to your wedding stationer. Having all your wording and details prepared should also make the process a bit smoother for both yourself and your supplier.
Lets start with the easy bits, some essential information that you may want to have on your invites will include:
- names of your parents or other hosts
- first name and surname of yourself and your partner
- Wedding venue/s
- date, month and year of the wedding
- address to which guests should reply
- a reply date
If you want to go down the traditional wording approach, some things we would recomend would be:


- The Bride's name should come before the Groom's name and be written in full
- Numbers are spelt out as words and not the digits e.g 2 should be two
- If you are having a religious ceremony you should have phrases such as 'the honour of your presence' and if your are having a civil ceremony you can use terms such as 'the pleasure of your company'
- Dates and times should not be abbreviated e.g 12pm should be outlined as twelve o'clock
- When it comes to your evening invitations, you can simply change the wording to 'Mr and Mrs... request the please of your company at their evening reception'
If you are going for a modern invitation, some wording approaches we would recomend as follows:
- You can include fun and inviting sayings such as "dinner, drinks and dancing to follow", "invite you to share in the festivities'", "What song would you like to dance to?" on the RSVP Cards
- Adding icons or love quotes to personalise your invite
- It is quite common for couples to start their invitation of with 'together with their families'
- The evening invitation can be informal by adding the text such as 'come and party with us and we celebrate our marriage'
When it comes to your evening invites, we would recommend you send them at the same time as your day invites, this allows guests not to wonder if they have been invited to your wedding day or not.
Should you be starting to plan your wedding stationery, please feel free to drop us a call or email on 028 90 022474 or weddings@kaizenprint.co.uk for a chat about what you are looking for. Alternatively we are always more than happy to meet you in person and accept walk in appointments, our studio is open 9-5pm everyday!