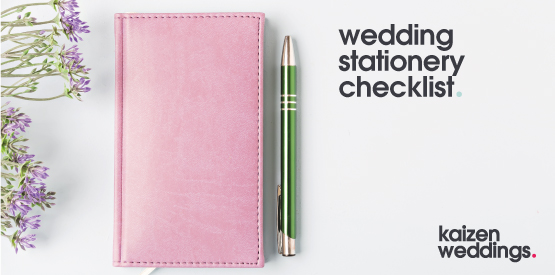 We've noticed here at Kaizen Weddings that when it comes down to planning your stationery for the big day, sometimes this can fall behind whilst organising things such as the venue, flowers, suits and dresses alongside a whole list of other tasks! We really think it's worth establishing contact with a wedding stationer whilst you are planning your overall budget, as it allows you to not only develop a relationship with your stationer from the start, but getting initial quotes allows you to build wedding stationery into your budget, something that can often be overlooked.
Sending out reminders to your friends and families for your wedding day allows people to plan well in advance and well-presented stationery which is professionally designed can really set the tone for the rest of your big day.
We've put together a wedding stationery checklist with some suggestions of printed items to consider to ensure you have a perfectly organised wedding from start to finish.
Items for before the wedding:
Engagement Invites – You may not know exactly what your wedding is going to be like in terms of colour schemes or themes yet at this stage, but a nice simple design, be it fun or more classic is a great first way of letting people know of your impending nuptials.
Be my bridesmaid cards and hen party invites – Here at Kaizen Weddings, be my bridesmaid and hen party invites are increasingly popular items. We can design personalised cards and they can be in keeping with the theme of your wedding. Hen party invites are also a great way to keep everyone going organised and up to speed with the itinerary if you are going away somewhere.
Save The Dates – Although an optional item, save the date cards are a practical and useful item to let your guests know some of the more important details of your wedding such as the location and date and ensure that your nearest and dearest can make your big day.
Wedding Invites – Due to the amount of destination weddings or guests who are visiting from elsewhere, there are now many additional items that you can get to go alongside your invite itself. These include:
- Venue maps
- RSVP Cards (if your rsvp details are not on the invite itself)
- Information for the day cards/ Itinerary cards
Items for the wedding day:
Order of Ceremony Booklets or Cards – These are booklets, usually A5 size which have details of a wedding ceremony, such as hymns, readings and order of a service or else they simply provide information for the set-up of the day. The information in these can vary greatly depending on the nature and lay out of your wedding day.
Table plan and place cards – Your table plan and place cards will usually match in design and will be in keeping with the colour scheme of the wedding and with the rest of your wedding stationery that has been printed. A good clear table plan will ensure everyone knows where they are sitting and the lay out for the reception.
Table numbers, names and menus – We find that many of our clients assume that printed items such as table numbers, names and menus are printed by a venue, but it's always worth checking with the venue, as sometimes they don't. Your wedding stationer will be able to design these items to be in keeping with your place cards and overall colour scheme and they can really add a bit of life to the table for your guests!
After the wedding:
You're nearly there! One of the last items of printed stationery that many of our clients get after their wedding are thank-you cards. It is very popular once you get some professional photos back to use one for the front of your card.
To discuss your wedding stationery for an upcoming wedding this year, please feel free to give us a call on 028 90022474 or email weddings@kaizenprint.co.uk to arrange a free consultation with one of our Kaizen Weddings team!