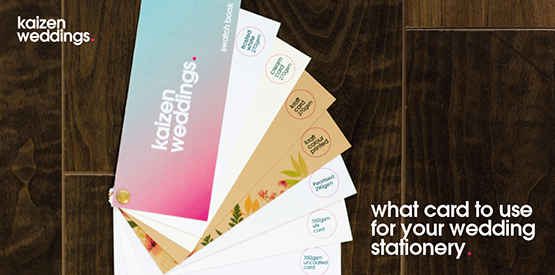 One of the most frequently asked questions we get here at Kaizen Weddings is 'what can you print my wedding stationery on?" This week we look at the various different cards and materials you can print your stationery and wedding day items on!
For products such as your save the dates, invites, order of services, menu prints and table number and place cards, these should always be printed on a heavier card, usually a weight ranging from 270gsm – 350gsm. A heavier card means that your items will be durable for both postage and your recipients receiving them and for printed items on the day such as menus and table cards, a heavier card will sit up nicely should it need to be placed within anything on your table.
Now that you know that you should be printing on card and what type of weight of card, the next thing to think about is the colour and texture of card you wish to go for. Some of the most popular card types for weddings often have an uncoated feel to them, however if you are going for more of a modern design then you may wish to choose a silk card, which will provide more of a nice sheen on the stationery.
Your colour and type of card will largely tie in with your wedding colour scheme and theme, should you have one. Some of the most popular colours and types of cards to think about when deciding include:
- - Frosted White Card
- - Ivory/Cream Card
- - Pearl Card
- - Kraft Card
Once many of our clients have decided on their card types for print, then the next commonly asked question is what should I print my table plans and any venue signage on?
Any table plans standing on an easel are most commonly printed on a rigid foamex board, ranging from size A2 to A0, depending on how many tables and guests you are having. If your table plan is going to be placed in a frame, then you will print your table plan on a paper material, as a thinner paper weight will be easier to place into the frame and sit perfectly flat for you.
In terms of venue signage, an increasingly popular trend is putting a strut card on the back of a foamex print – which means that you don't have to prop any of your signage against anything and allows the sign to stand alone, be it outside a church, or within a hotel.
Should your wedding be fast approaching and you want to put out reminders of the date, invites themselves or decorations for the wedding venue, why not call in and see some of our brilliant samples and take away our paper swatched to look at in the studio! Alternatively please feel free to call or email us on 028 9002 2474 or email weddings@kaizenprint.co.uk