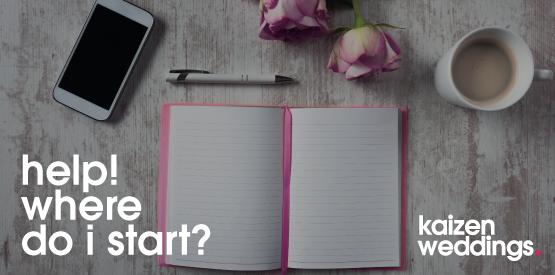 One of the first things we find many of our wedding clients ask is, how does placing a wedding stationery order for invites actually work?
At Kaizen Weddings, we try and make the wedding stationery experience as smooth and enjoyable as possible for all our clients, to try and ensure that this is not another added stress to the wedding planning process.
Planning the design and style of your own bespoke wedding invites can be great fun and allow you to get your own creative juices flowing!
In most cases, your customer journey will involve:
- Initial consultation with design and print team
- Deciding on invitation design and style and sample viewing.
- Design of artwork
- Samples
- Finished product
We find that one of the biggest decisions with wedding invites is often deciding on the design and style of your invite, as this can set the theme and tone for the rest of your big day and is the first glimpse all your guests will get into your wedding!
A great idea before meeting for an initial consultation with a wedding stationer, is to try and pull together things you have seen that you like, perhaps a design style you have seen online, or a friend's wedding invite that you like the size and shape of, or a design theme in a bridal magazine.
Many of our brides come to us with already made up Pinterest boards, which are really useful for both yourself and for a designer, as they allow you to refer back to what you originally envisioned and allow the designer to build upon your initial thoughts and create a bespoke design that is individual to both you and your partner.
Some things to take into consideration when deciding on a theme and design for your invites are:
- Wedding Colour Scheme
- Do you already have a theme for your wedding?
- Do you want a vintage/traditional style or maybe something a bit more modern/contemporary?
Luckily we have an experienced design team on hand to go over these various design styles and options with you and we also have a wealth of samples for you to view for inspiration.
So if you are worrying about getting your wedding stationery organised, sit back and leave the hard work up to us!
To book a free wedding stationery consultation, please just feel free to call into the office or give us a phone today on 028 9002474.