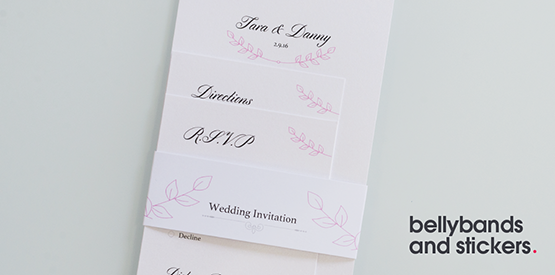 Here at Kaizen Weddings, we have an exciting new addition to our wedding stationery sets for that perfect finishing touch, bellybands and stickers!
As many of our clients now choose to go with more than one piece of stationery, such as rsvp cards, information cards and sometimes an order of the day, a bellyband is both a practical and sophisticated way to keep all your stationery items together when hand delivering or posting.
Your bellybands can be stuck together or, an increasingly popular addition to the bellybands with many of our wedding clients is a customised sticker to hold them together. You may perhaps choose to have yours and your partner's initials or date of the wedding on the stickers. Alternatively your sticker design can be a pattern or colour inkeeping with the rest of the stationery.
When choosing the paper for your bellyband, you may wish to go with the same paper as the rest of your set; the other option is to choose a different texture or card to compliment you stationery paper. For example, if you have a nice frosted white textured paper for your stationery, we have had some clients then choosing a pearlised style card for their bellyband to give it that extra special touch!
If you are getting your invites personalised by your wedding stationer or your invites are generic and no writing is required on them, then getting your wedding stationer to package these all up for you is also a great time saver amongst so many tasks and planning you are already carrying out for your big day.
Should you already have your stationery designed but require some extra touches on the design front and want something to package your set together to really set it off, get in touch with us for a free consultation with one of our Kaizen Weddings team on 02890 02474 or weddings@kaizenprint.co.uk