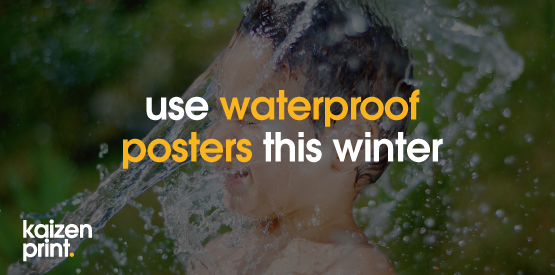 Let's be honest here. Our weather is anything but desirable. It may be 20+ in Portugal and Spain right now, but if you look outside, it's cold, damp and a little bit miserable. Unfortunately standard posters don't like these conditions anymore than you do and a little bit of condensation or rain can ruin even the most carefully printed poster. Of course we have a solution, one that will blow your socks off with it's ingenuity. Let us introduce you to our waterproof posters! Of course, they're not your average poster, but rather a polypropylene film that is waterproof, UV resistant and perfect for all that the elements have to throw at it.
Waterproof posters are our replacement to laminated or encapsulated posters. We spoke to many clients and they found the lamination made the posters quite bulky and not suitable for storage. Our solution was to find a new media that had all the properties required for outdoor use but could also be priced more competitively than the two processes involved in printing and lamination. Being quite honest, we didn't have to look to far, as this film is the same we use for our roller banners and we have known how well it can withstand the elements for sometime. It's an amazing product and one we're happy to recommend on a daily basis.
Our outdoor posters are perfect for your A-frames and wind master signs. They are also absolutely fine within clip frames or front lit light boxes. We print the waterproof posters on our Roland printers at the highest quality print setting to ensure the absolute best finish possible.
When designing your waterproof posters it's best to follow some best practice techniques. Ensure it is easy to read and understand. If spelling and grammar isn't your strongest suit it may be best to hire a copywriter to create well written content. Like all posters, less is usually more, make sure you have striking visuals that will entice customer to read the print. We always recommend engaging design studio for your waterproof posters. A good design may cost you today, bad design is forever.
We'd love to help you with the design and print of your waterproof posters. To get a quote for your project, drop us a message via the contact form or call us on 028 9002 2474. We want you to get the best from your marketing spend, so let us guide you through the process to ensure you get the best value printing as well as the best design and customer service around.
To compliment your waterproof poster printing, why not have a look at our flyer printing range. Low cost, amazing quality and super speedy. We can print you flyers using your poster design, saving you on multiple design set ups.