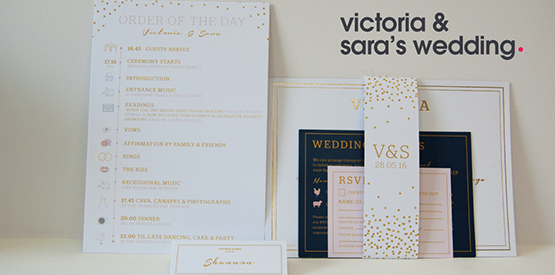 This week we have more of our lovely clients who after months of preparation have finally reached their big day!
Victoria and Sara came to us back in February with a clear idea of what they were looking for. They wanted something that with a modern twist, whilst retaining a sense of classic style. They both really loved the idea of gold foil blocking as a finishing touch to their day invitations which we think shows off their invite beautifully. The invite was paired with an information card for guests and an RSVP, all wrapped round with a belly band to hold everything together.
We continued with the gold modern style with Victoria and Sara's order of the day, place cards and table plan. We loved the idea of their order of the day with simple icons and information for the guests as it added a personal touch to their day. Having order of the day cards are great for guests as it lets them know when and where things are happening on your wedding day.
We wish Victoria and Sara all the best for their upcoming day, we are just a little bit jealous that you are getting married in sunny spain!