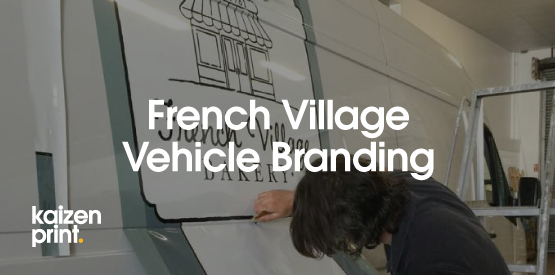 We love Northern Ireland, but Belfast in particular. Being such a small city obviously has its drawbacks but conversely it means that everyone knows and works with each other. This camaraderie between suppliers is what makes our industry and those we work with so amazing. We work closely with Isaac Agnew Volkswagen who have sold more than a handful of our key customers new vans and having such similarly aligned values ensures you konw that if we recommend them, they'll look after you as well as we would.
Here's the entire fleet of vehicles for French Vilage Bakery, Belfast. It's an exciting year for them, with the lanch of their new Lisburn Road bakery, cafe and restaurant. We're extremely excited to be apart of this new venture and will bring you updates on all our involvement over the next few months. There's lots in store and we're going to do our utmost to contribute to this ongoing success story.
In 2013 we rebranded he entire French Village group with a new and unique identity. This has helped strengthen the brand and create stronger relationships with trade customers and the public.
If you want to discuss the option for your brand, we encourage you to visit our new studio website - http://kaizenbrandevolution.com which launches this month. We're working teogether with some of most well known brands and companies in Belfast and we'd love the opportunity to work with you. Call us today.