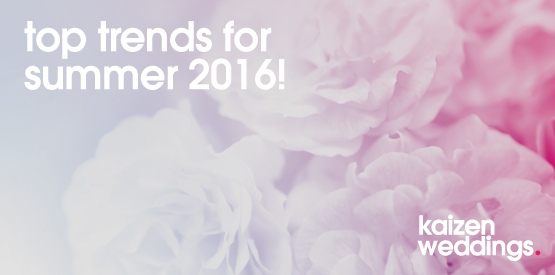 Wedding fever is well and truly upon us here this month at Kaizen. For many months we have been assisting brides-to-be with choosing a style and design for their wedding stationery and many of our projects for summer weddings are now going to print.
If your wedding is this summer and you haven't had a chance yet to think yet about what you want to do for your wedding stationery, fear not, we are here to help! We've noticed some trends that have been really popular with our brides over the past few months and we've put these together in our top trends for summer 2016 list.
Watercolours
Watercolour shades and colours have been a big hit this year. Subtle pastel tones or bolder watercolour images look particularly strong on a nice textured paper and can really make your invite stand out. Most recently we had a bride who had a watercolour image drawn of her wedding venue which we were able to scan and incorporate into the design of her invite.
Textured and coloured card
Make your card for your invite stand out. Nowadays there are so many different types of card to choose from and we have found that some of the most popular types so far this year have been frosted white and textured card, kraft card, ivory card and white pearl card.
Handwriting Fonts
It's all in the font! With so many fonts out there to choose from, a stand out font for our clients has been a handwritten style font. This type of font can add great personality to the front of an invite and looks really effective in a strong colour or foil blocked.
Ticket style invites
An invite in the shape of a ticket with a perforation for your RSVP has been a really popular item with us, especially for themed weddings. Our clients have used this style for both day and evening invites and the tear off RSVP is a nice additional feature to the invite.
Gold Foil Blocking
Foil blocking works really well on simple and classic designs and gold foil blocking in particular has been extremely popular. Blocked on a crisp white textured card, foil blocking gives an extremely high quality and elegant feel to your invites and can really set the tone for the rest of your wedding.
Customised Maps
A common enquiry and something we've really enjoyed designing for our clients are customised maps for both wedding day and evening invites. The maps can feature as a standalone directions card for your invites or feature on the invite itself. Bespoke maps are designed to be in-keeping in style with the rest of your wedding stationery and are a really practical item for your guests!
Venue signage and props
Last but by no means least, we've noticed a large rise in the amount of venue and prop signage we are producing for weddings. These have ranged from welcome signs for a wedding venue to signage for photo booths and customised signs for themed weddings.
If you are still to get your stationery out for your summer wedding or need some last minute finishing touches for the venue, book a free consultation with a member of our kaizen weddings team today by emailing weddings@kaizenprint.co.uk, calling us on 028 90022474 or feel free to call into the studio to see us!