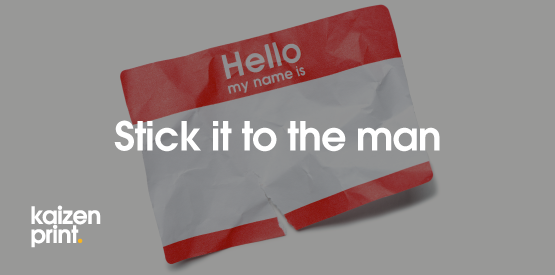 If your business has something to shout about, then put it on a sticker!
Stickers are amazingly versatile, whether you are at the stage of branding your product to make it out on the shelves or simply want a different and fun way of marketing a product, then stickers are the choice for you.
Companies have been using stickers as a marketing tool for decades and a recent trend has seen them distribute stickers with online orders and other promotional materials for some clever guerrilla marketing.
So why use them in the first place? Well how about drumming up some extra business for starters. You can have your own choice of message to put on the front, then put them wherever you want. Use them on the front of orders, to seal envelopes, get creative and stick them wherever you like. Put them in the right place and they can have the eyes of thousands on them every day.
Perhaps they aren't for business use at all and you simply want a fun way to mark items as your own. Put your initials in your choice of font on them and leave no doubt who it belongs to. Maybe you can want to hand them out as a reward for some good work at your school or club. Whatever the case might be, stick it on a sticker!
At Kaizen, we have a selection of high quality, full colour printed stickers to choose from in a quantity that suits you.
If you need a way of making your packaging stand out, to mark up your cardboard boxes or as a delivery slip, then we recommend Kaizen's A-size sticker printing service. With sheets available in A6, A5, A4 or A3 size and with quantities ranging from 100 to 500, we have you covered whatever your business size and needs. We print on a matt crack back surface, so it won't fall apart after a little use.
However, if you need something a little more creative, then why not consider our plotted sticker range. These stickers are available in nearly any size and shape, and they are totally customised to your needs. Need a sheet of small ones to give away as a promotional item? Get it small, need one to cover an entire wall? Get it big. Our printing and design team can customise one entirely to your preference.
Our plotted range is printed on your choice of three materials. Have yours on Matt Opaque, Gloss Clear or Gloss Opaque surfaces, it's entirely up to you.
The best thing about or plotted range though is how tough they are. Our plotted vinyl means that these can spend weeks, months or even years or a surface, indoor or out, without being ripped, torn or damaged in any way. The vinyl coating offers some protection against the elements making them suitable for outdoor use.
So if you need some cheap and cheerful marketing, some colourful items to entice customers or just want to have some fun with your own design, the Kaizen's sticker printing service is ready for your order.