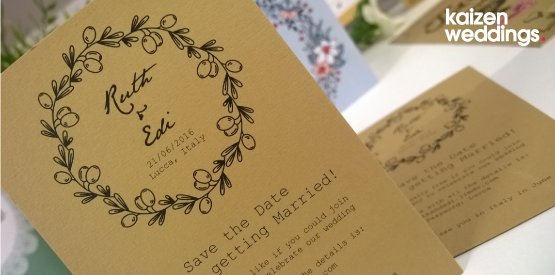 Save the dates have become an increasingly popular item here at Kaizen Weddings and are a great way to ensure that your nearest and dearest know well in advance the date and location of your wedding.
So why send out save the dates? Not only do save the date cards ensure guests can attend your wedding, but they are the perfect way to give your attendees a first glimpse into your wedding and can set the style and theme for the rest of your big day.
Save the dates are normally sent out 6 – 9 months before the wedding day. Recently we have had a few clients having destination weddings, so if you are having your wedding further afield, then you may want to consider save the dates 12 months in advance alongside information cards on accommodation and airports.
These wedding stationery items are a great way to also get thinking in advance about what design and theme you would like for all your wedding stationery and eases the burden of deciding on design styles for your wedding invites as the tone has already been set.
Most recently our dedicated wedding stationery team helped Ruth and Edi create bespoke save the date cards for their wedding in Lucca, Italy in June. The design brief was rustic and simple, so Ruth decided to go for a Kraft paper, with an Olive Tree to represent the location of the event, setting the tone for their entire wedding. Most save the dates card are produced at size A6 and can be produced on a variety of card stocks such as kraft, cream and frosted white. We can also order in custom colours to suit your colour theme and style and create customised and unique designs of your choice.
If you're newly engaged and starting to put ideas together for your wedding stationery, please just give us a call on 028 90022474 or call in and see us at the office for a free consultation with one of our wedding stationery team.