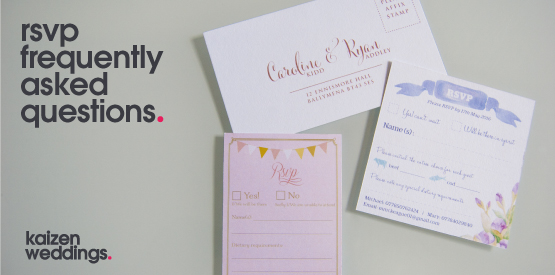 Some of our most common queries from clients when planning out their wedding stationery is what should go on your RSVP. Whilst your response cards will do the obvious and allow you to gather your total number of guests for the big day, you can also use them to gather all different sorts of information that can be useful for both you and your wedding venue.
We have compiled some of our most frequently asked questions surrounding RSVP cards that we hope will give you some inspiration and ideas for your own!
What date should I put on my RSVP?
We would recommend putting the response date approximately 4 weeks before your wedding. This allows you to have plenty of time to get your guest list together and allows your wedding stationer time to get your table plan set up. It also allows you time to follow up on any people who haven't responded to your invite.
Who will be attending your wedding?
Make sure to leave a blank space for your guests to write their name on your RSVP and a blank box for them to mark the number of guests. This will help you keep track of who is attending and the number of attendees.
Formal or casual language?
There is no right or wrong answer to this question – the type of language you use on your RSVP is completely up to you. Most of our clients at Kaizen Weddings like to make their RSVP's as fun as possible. This includes asking the guests what songs they would like played at the wedding!
What other information can I gather on my rsvp?
If you are having a meal choice at your wedding, your rsvp can be used to gather this information or if you are having a destination wedding with various events on over the course of a few days, then you can gauge numbers of people attending your events through your rsvp.
How do my guests return my rsvp?
It's really useful to have the address already printed on the back of your rsvp, this means that all your guests have to do is put a stamp on (if you are providing one) and return it. Some people also like to provide an envelope for their response cards, but this is personal choice.
If you have a wedding this year and are starting to think about your stationery, please feel free to give us a call arrange a free appointment with one of our Kaizen Weddings team on 02890022474 or email weddings@kaizenprint.co.uk