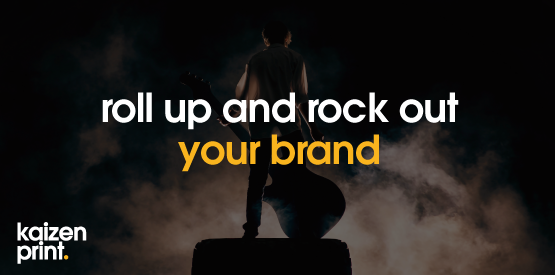 Roll up banners are honestly one of the most versatile products we sell. Their ability to display your brand on a large scale without taking up too much room in your office or at event makes them the perfect marketing tool for any business. Today, we've pulled together a little guide to show you how roll up banners can be used within almost any industry.
Car Dealerships
Walk in to almost any car dealership and not only will you be greeted by a friendly salesperson, but positioned in prime locations across the showroom will be roller banners presenting the latest cars on offer and the finance examples used to tantalise you into buying said model.
Trade Shows
A trade show wouldn't be a trade show without a roll up banner. Positioned beside or behind your stand, a roll up banner is the perfect way to entice potential customers to your stand and to inform them of the products and services you sell.
Receptions
Used within receptions, roll up banners can be used to present products and services your customers may not be aware you sell. A captive audience to present any message you wish is a priceless marketing tool.
Banks
Banks are one of the biggest high street retailers with pharmacies only outnumbering them in Northern Ireland. We print roll up banners for many of the high street banks who use our banners to promote their latest interest rates and mortgages offers. You'll see our banners used as displays in each bank or in their window display.
Salons
New services are hard to communicate to customers, but when they visit your salon you have a captive audience to communicate to. Roll up banners are a perfect way to showcase new services your salon may be offerring.
A Roll Up Banner is the perfect way to ensure your customers leave filled with the knowledge of your new range, product or service without the requirement of a sales person giving their pitch. If the client is interested in the product or service, they will have enough information to make the informed decision to ask your sales team for further details.
With our Roll Up Banners starting at only £90 and our replacement graphics costing only £60, roll up banners are the cheap and easy way to create a big impact for your business. We sell thousands of this product every year and they honestly do get our seal of approval on a marketing front. Our customers love them too!