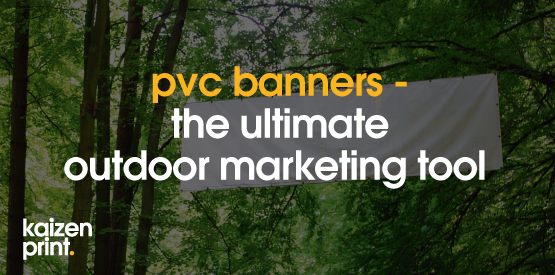 It may be cold and windy outside, but outdoor marketing is something to be considered year round and not just in the fairer weather. Our PVC Banners are rain proof and UV resistant, making them hardy against the elements. If wind is an issue then we offer a mesh banner filled with micro holes that allows enough wind to pass through to prevent "sailing". Whatever the weather, we've got the perfect PVC banner to suit your purpose.
When designing your PVC banner it's important to remember that they are to be viewed from afar and not up close the way flyers would be. It is common for banners to be placed in high traffic areas where they are only glanced at as potential customers pass. This means the design of the banner must be carefully considered to ensure the right message is understood and absorbed by the view. The old saying "less is more" is certainly true when designed a large format PVC banner.
PVC Banner Printing is one of the most popular products within Kaizen and we print miles and miles of banners every single month. Our banners are cheap and we can print them in as little as 24 hours ensuring you get the best value and service each and every time your order is placed.
We finish all our banners with high quality brass eyelits spaced evenly across all edges of the banner which allows for easy installation on walls, on fences or anywhere else you want to place the banner. By not being cheap on the use of our eyelits this ensures equal tension across the entire banner and so the eyelits have a lesser chance of sagging or ripping from the banner in high winds. Our eyelits are usually placed every two to three foot apart, but this depends directly on the size of the banner purchased.
To order your digitally printed banner, visit our product pages and choose your size. Our PVC banners are available from 1m in length and for those extra wide banners, we can heat seal them together to make sure we can print an unrivalled product, at the right price for your business.
We recommend you focus your banners on 1 campaign at a time. Again as they are to be viewed quickly and from afar, diluting your message by "being all things to all people" will drastically reduce the impact your print will make. As a general rule of thumb, we recommend the rule of three on your pvc banner designs.
1) Logo
2) Message - keep it short and sweet
3) Link to contact - email, website and or phone number
Keeping to the rule of three will ensure your banner makes the biggest impact and you gain the best return for your investment. If you want to chat about the design and print of your banners please get in touch on 028 9002 2474 or email us via the contact form.