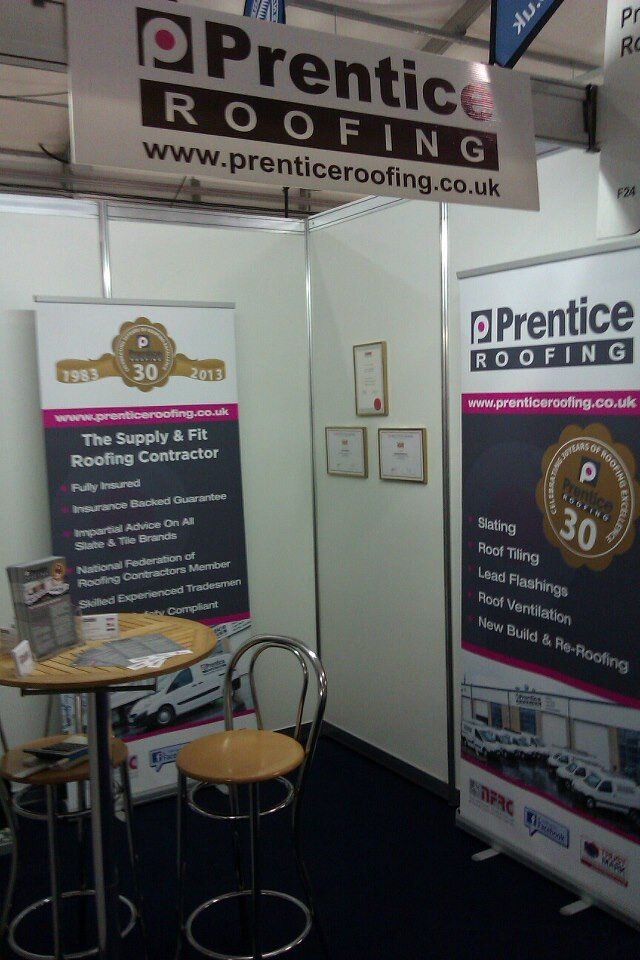 If you attended the Self Build Show in the Kings Hall this weekend, you may have seen the many
Roller Banners
, Media Walls,
Flyers
, Posters and Business Cards, the Kaizen Print and Marketing, Belfast team created for our clients. In fact, the latter part of last week was a blur of print and a frenzy of design for chimney suppliers, roofers and insurance companies, many situated in the greater Belfast area. One of our customers, was kind enough to forward a photo of their stand and I think you'll agree that the roll up banners printed look particularly great. Because Roller Banners are one of the greatest ways of attracting attention inside, we absolutely love them. We've printed thousands over the past 4 years and if we're designing them, we abide by certain rules. If we're not, you can follow these handy tips and hints to create a successful roll up banner
Less is more
People will respond to large catchy titles and not paragraphs of text. Ensure your banner engages and invites.
The world's largest business card
A roller banner is essentially a business card. It should be specific and emphasise the key information about your business. Who you are, what you do, How people can contact you.
Who is your audience?
Always address your target audience. If you don't know who this is, then we can indeed help. A targeted banner will ultimately help sell better than an untargeted one. [h2>Setting Up Your Roll Up Banner For Print[/h2> To be honest, we're really not a fussy bunch when it comes to artwork. But we do ask for a few really simple guidelines to be met 1) Artwork should be 300dpi. No less please!! 2) Please use cmyk, not rgb colour modes. 3) Our banners are hand trimmed, so we only need bleed on the bottom - 200mm. Your artwork should be set up as 850mm wide x 2200mm tall. Ta Ta