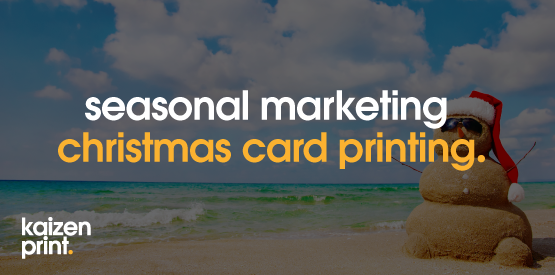 Our second Christmas rush of the year is in full swing right now. Not only has the restaurant christmas menu printing gone into overdrive, but our corporate and personal clients are pushing the boundaries of Christmas marketing (early too) with amass of personalised Christmas Card orders. We're only too happy to help.
We make ordering your bespoke Christmas cards super easy and have set up over 15 individual templates for you to choose from. Or you can go completely bespoke and brief our design studio on the type of card you want to reflect your business. The choice is yours.
Why send Christmas cards?
In a digital world, Christmas cards seem old fashioned. They were originally created in the 1840s, an age where personal handwritten notes were commonplace, nowadays not so much, yet Christmas cards are still given out in their millions each year and can still bring joy to those who receive them right across the holiday season.
From a business perspective, Christmas cards are a reminder your customers that you value their business, their advice and their friendships. You may not get a chance to say this throughout the year, but a Christmas card sent each year, can do wonders for your business relationships. A bottle of wine in hand doesn't go down a miss either…
Make Christmas printeresting with our range of Christmas cards that can suit any use, business or personal and can be tailored with photos or logos to completely personalise your card. All our Christmas cards are printed on a beautiful 350gsm silk card and are provided with luxury white envelopes. All you have to do is write your note, close and post.
For a completely bespoke christmas card, our design studio are always on hand to create the perfect Christmas card design. We've photoshopped Santa Hats on Estate Agents and Pugs (dogs) alike, so no matter what the request, we'll put our best photoshopping skills to test.
To order your Christmas cards, please visit here, or to get a bespoke quote for your Christmas card design, you can contact our team via the contact form.
Finally, at this point, let me once again thank you all for your custom over the last 12 months. We're so glad to be in a great position to help so many business people with their sales and marketing materials. It's great to watch these amazing companies growing and us growing with them.