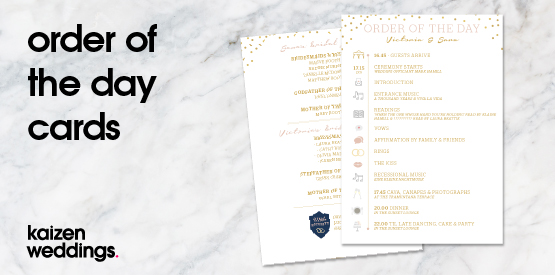 An increasingly popular item here at Kaizen Weddings are order of day cards, which are an extremely practical item for your wedding guests and a nice extra special touch for your big day.
When it comes to providing your guests with information regarding the set up and itinerary for your wedding day, the type of product you use to do so and when you choose to give your guests this information is really down to personal choice and the layout of your day.
Order of day cards can be sent with or after your wedding invite and also given to your guests on the day. If you are having a destination wedding, it's useful to send the itinerary for the day along with your invites, as it's great for your guests to know what events to arrive for or stay around for. If you are having your wedding at home, order of day cards can be given out on the actual day of your wedding day and are a great alternative to an order of service booklet. Many people prefer order of day cards, as they can be printed as a single or folded card and don't overload guests with information.
Information which many of our Kaizen Weddings clients put on their order of the day cards include:
- Times for various events taking place throughout the day, from the wedding ceremony through to dancing and buffet at the end of the night.
- - A 'whos-who' of the wedding party
- - Special thanks
- - Any additional information you want your guests to know, such as parking and maps
We find that since every wedding is completely unique, so are the order of day cards that we design and print, however they will usually be in-keeping in design and colour scheme to the rest of your stationery and your big day.
Here at Kaizen weddings, we can create bespoke order of day cards, including customised time lines and designs for that extra special touch. If your wedding is approaching and you like the sound of an order of day card, call in for a free consultation with one of our Kaizen Weddings Team or call or email us on 028 9002474 or weddings@kaizenprint.co.uk