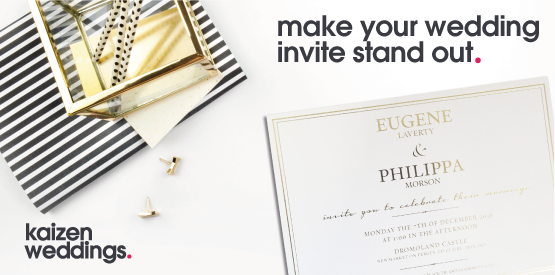 As your invite can be one of the first glimpses people have into your wedding, it's a great opportunity to show off what your wedding is going to be about and sets the tone for the rest of the big day.
It's just a piece of card to let people know when and where we are getting married you say? It certainly is not! Here at Kaizen Weddings we believe in the importance of an invite that stands out and says something about you and your partner's important day!
One of the first ways to ensure your invite stands out is a strong design on the invites which reflects something about your big day, be it a personal touch to the invite or an evident colour scheme or theme. Everyone is different, and it's very rarely that we would design or print a similar invite.
You may want to choose an understated and subtle design to go with your laid back personality or a bold design with a colour scheme or theme to showcase you and your partner's big day.
There are so many options out there and it can be hard to decide exactly what you want on your wedding invite. We would encourage all our brides to use sites such as Pinterest and to build up an inspiration board for your invites, as having a contained board can sometimes assist in making decisions and deciding what road you want to go down when it comes to purchasing your invites.
Most recently, we've been noticing the popularity of our clients adding a personal touch to their wedding invites, such as personalised map or a hand drawn image of their church or ceremony location. These types of things are a really nice finishing touch to your invites and allow your guests an insight into your big day.
Asides from the design and theme of your invite, printed elements to make your wedding invite stand out from the crowd can include:
- Foil blocking
- Embossing
- Rounded Corners
- Including your RSVP printed onto your invite with a perforation and address on one side to make returning RSVPs as simple as possible for your attendees.
To book a free appointment to discuss bespoke wedding invite design with one of our Kaizen Weddings Team, please just give us a call on 02890022474 or email us at weddings@kaizenprint.co.uk