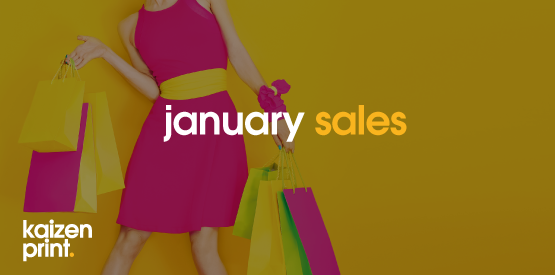 It's absolute madness to think that we've already started planning for January and have a huge number of projects scheduled in for the first first days back already. It's a testament to our customers knowing their businesses inside out and getting even more focused and organised on making 2016 the biggest and best years for their businesses. We're launching a little project in January ourselves to try to help our customers along the way, but there will be much more about that the first Tuesday in January.
For now though it's all about January sales. Remember, we close on the 24th December and will not be back into the office until the 4th January. We honestly would love to come in over the break and print your promotional items, but if we did, there may be divorce letters in the post. Consider this your ample warning. If you need posters, flyers and or roller banners to promote your January Sales, today is the day for getting things together on both a design and print front. Even if you don't need your print until January it's extremely wise to plan now also as when the January budgets kick back in again, we know there will be a bit of a backlog and a little bit slower lead times because of this.
When planning your sale remember to think like your customer. What do they want? What would entice them to spend their hard earned cash on your products and services? Appeal to their wants and needs and ensure you sing these loud from the roof tops if you have to. You only get so many chances to sell to your customers each year and this is the main one to capitalise of in Quarter 1 of 2016.
To capitalise most on the opportunities at hand we recommend the following items
Window Graphics
Using a removable vinyl, putting up sale graphics temporarily in the window will ensure you let all passing trade know of your sale. Make it big, make it bold and don't be shy about telling people you have great deals on your products and services. All they have to do is come on inside.
Posters
Large format posters can e used interchangeably with the window graphics if you have little window space or your outside A-boards are slightly away from your location. We recommend our waterproof posters highly at this time of year as with the current weather, standard paper posters wouldn't last a day.
Flyers
A flyer is still the most practical way to get your sale message to people far and wide. Low cost but effective, flyer printing will ensure you have footfall throughout the entire sale period and beyond. Remember that arranging a flyer drop can't be done on the spur of a moment, so it is wise to plan well in advance, especially as this is an extremely busy time for leaflet distribution.
Roll Up Banners
When you have people in-store it's your job as a marketer and sales person to focus on generating the interest in your products and services. Ultimately the sales person must close the sale, but by giving the right information presented well on a roll up banner for example will ensure you give the sales team every opportunity to sell to your customers.
This is our 7th January helping customers to increase revenue and footfall through design, online and print products. We'd love to help you make 2016 the most profitable year for your business. If you want have a chat with us about the options, please get in touch on 028 9002 2474.