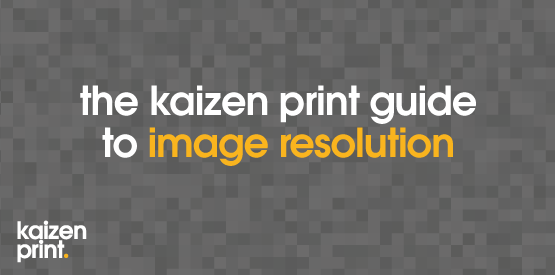 As printers, marketers and designers we are fanatical about quality. We would never knowingly print a file that would be of a less than acceptable quality and if we spot issues through our pre-press and artwork handling, we will always notify a client to ensure we can print the job right, the first time.
One of the most common issues we face when printing is low resolution (or low res) images. Being a print company we always want our graphics to be pinpoint sharp and of the highest quality. To ensure our printing meets your standards and ours, we print at whats commonly known as 300 dpi. the dpi part stands for "dots per inch". The more dots per inch printed, the better the quality. The industry standard is 300dpi, although on some of our printers, we have the capability of printing 1400 dpi. We request all artwork is supplied at 300dpi, as we know how this will print and it is 100% acceptable as high quality print.
On the other hand some people provide imagery in lesser quality by taking images from the internet (not always the case but for the most part) or images from Facebook. Such images are compressed when uploaded to keep load times down and while this is absolutely fine on screen, when it comes to printing they will never be good enough quality to be accepted as prints. As a general rule online graphics are saved at 72 dpi, or pretty much 1/4 the quality of printable files. As the files are made up of less dots, this gives rise to the blocky or pixelated look you may be familiar with. Not only this, but as web images are saved for web use, they are usually scaled down, adding to the issue when we try to print at larger sizes.
As a general rule images from Facebook or taken from the web, will not provide high quality printing. We can always check your images before print, so if you are concerned about the quality, just let us know and we can guide you through the process. No one wants pixelated flyer printing and we'll do our best to ensure this never happens.
Another thing to consider when selecting images from the web is that these images will be predominantly in the RGB colour schema, which again is perfect on screen, but when it comes to print, the images may look different. During our print process, we print exclusively in CMYK and this generally causes the colours to darken down a little bit in comparison to those seen on screen. To most people the difference isn't noticeable but we always advise that colour differentiation may occur from what you see on screen.
We're always on hand to assist with your choice of images and can tell you right away if we don't think your images will print to the standard you want. Drop us a message via the contact form and we'll get right back to you.