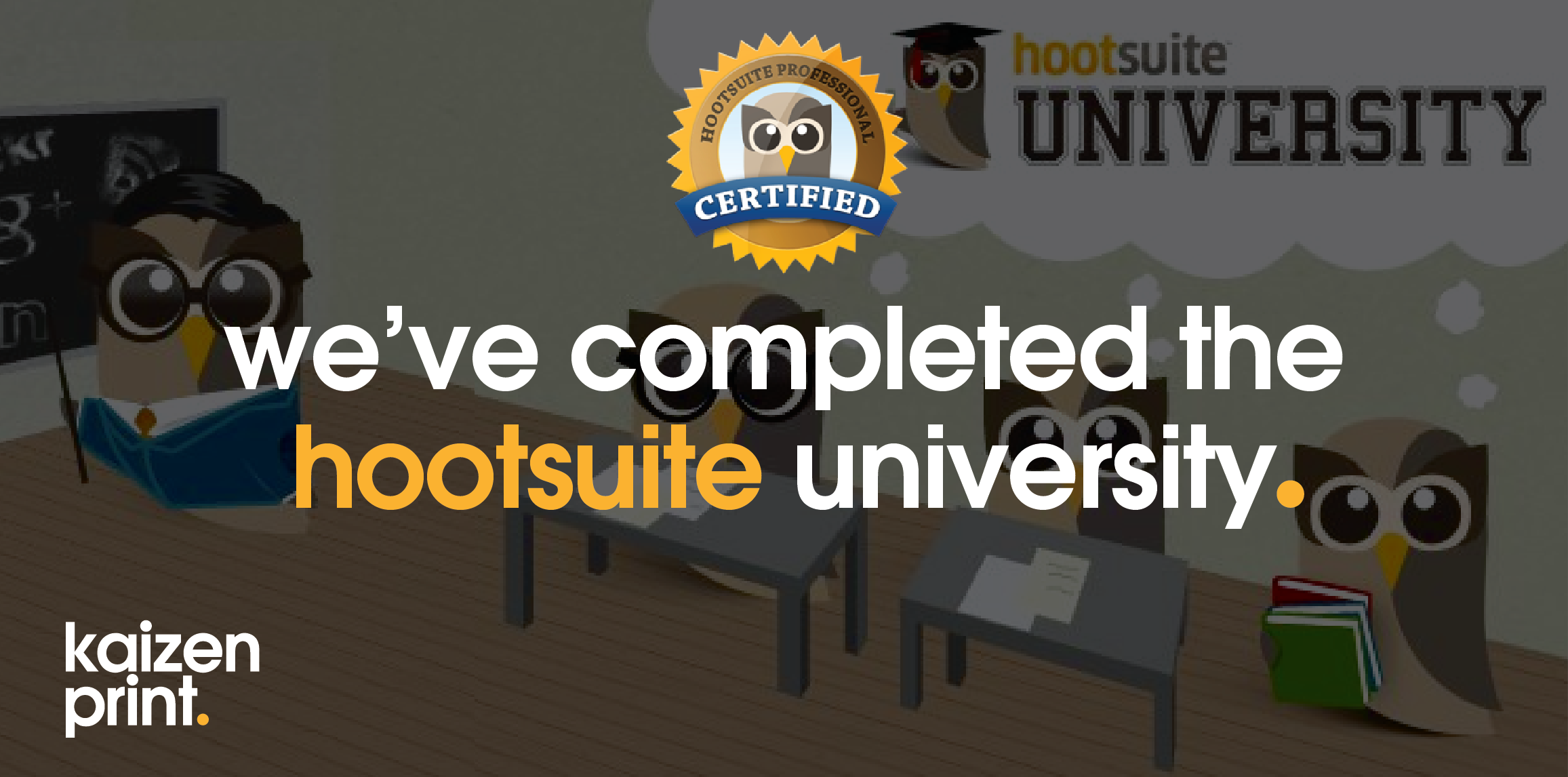 Hootsuite is a program designed to streamline the time consuming and often confusing world of social media. If you don't already know it, you need social media as part of your marketing, you need Hootsuite certified professionals, Kaizen…
You may have finally figured out Facebook, but now the images are blurring, your reach is down and they are asking you to pay. You're trying to figure out why, its 12.40pm and you still have to post to Twitter, Instagram, Pinterest and you've barely started to get caught up on what your customers have been saying about you last night, not to mention your actual work piling up. You could hire a marketing manager; the going rate starts at £30,000* per year. Or why not ask Kaizen and our social media oracle for a simpler and cheaper solution!
The fundamental mistake businesses often make when they attempt social media; they sell to their customers. You're not going to convert all fans to customers, but you can convert them to brand ambassadors, which is invaluable. Telling the people, who show an interest in you, who you are so they can get to know your business is how you should be using social media. However figuring out what to say is a full time job, and you don't have the time…
At Kaizen we are dedicated to keeping up to date with our social media so you don't have to. We now have a certified Hootsuite professional in our team to do everything social you don'thave the time for.
Through the Hootsuite University our oracle has learned to; command teams, organise large networks and take over the Internet… kind of. Hootsuite is a social media management system designed to help you stay on top of and organise your social media content, ensuring you stay in touch with every conversation and make sure they are talking to the right people.
We can set up and schedule all you posts on a weekly/monthly basis. Watch for conversations about you and respond to customer's feedback on your business. Alert you when urgent action needs to be taken by customer services. Provide you with monthly reports on your reach and advice on how to build you social media presence, even what social channels you should be on, and what ones to ditch.
Hootsuite has a variety of advance features we can tap into as well. We have taken the time to learn all about these features and are ready to use them to your advantage. Setting up targeted lists, learning how to assign unique tracking codes to your campaigns for better analytics, narrowing your research to specific markets and ensuring you are on the ball with your conversational skills.
Social Media Manager through Hootsuite is only the start of what we can offer in terms of social media, we are here to offer advice on how to implement your social media strategy and integrate it with your marketing. How social you should be as a business and create a tailored social media package designed to make the most out of your campaigns.
To schedule in a consultation with our Social Media team, please contact us via the contact form or call us on 028 9002 2474. You can even leave a message below or on any of our social media channels.