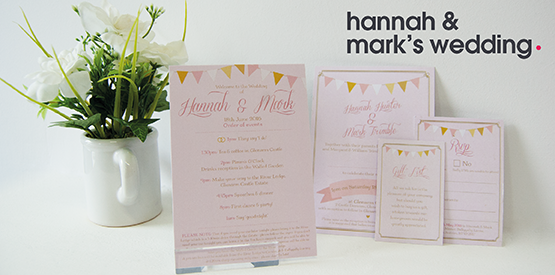 It really is wedding season here at Kaizen! This week we see Hannah and Mark, who we have been working closely with over the past year, get married on Saturday 18th June at Glenarm Castle.
Hannah had a clear vision for a shabby chic look for her wedding stationery and chose to go for a blush pink colour scheme throughout, a trend we have noticed has been particularly popular for Summer'16. We created Hannah's stationery set consisting of a main invite, an rsvp and a giftcard list. Each of which were inkeeping in style but different sizes to compliment each other and create the perfect wedding stationery set!
To top this beautiful set off, we also designed and printed a small bunting to go with the stationery sets with Hannah and Marks initials on it. The bunting acted as a form of bellyband to hold all the cards together, a practical yet eye-catching feature to give that special touch.
Most recently we designed Hannah's order of service print for her which was a simple, yet stylish, postcard sized card to give out to her guests on the day. This detailed the intinerary for the day and information on the wedding venue for guests.
It's great to see another Kaizen Weddings project reach the big day and we'd like to wish Hannah and Mark good luck for Saturday.