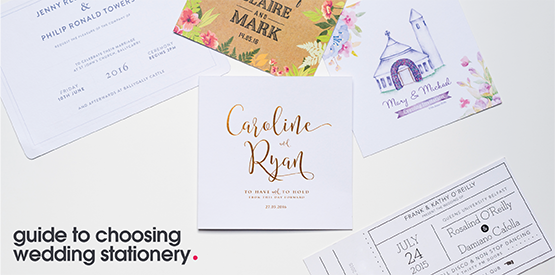 When we meet our brides and grooms for the first time, usually one of the first questions we get asked is, 'where do we start!'
There are quite a few factors to consider when choosing your wedding stationery and it's a good idea to have a think about what you want and your expectations of your stationery before you go to meet your wedding stationer for the first time.
If you have received physical examples of wedding stationery that you like, hold onto them to bring to your stationer, this will act as a good starting point. Alternatively if you are browsing online at the hundreds of options out there, start compiling your favourites on virtual boards such as Pinterest, which many of our wedding clients find particularly useful and would bring along to their first stationery appointment to use as a point of reference.
Hopefully by this stage, you will have chosen a colour scheme for your wedding, if not, this is definately something you should be considering when deciding on your wedding stationery, particularly when it comes down to choosing a design and card type. Your design and card type will usually compliment your colour palette for the wedding and any themes you may have. For example, if you are going for a vintage theme, your card you choose for your stationery may be a kraft or cream colour, whereas if you are going for a modern style of wedding, a 350gsm silk or pearlised card may be more in keeping.
There are some smaller factors that can be time consuming that we also encourage our brides and grooms to start thinking about at the beginning of their wedding stationery planning process, these include:
- Start gathering your guests names and addresses, sometimes your artwork can be signed off quicker than you realise and you have no details of where to send them to!
- Do you want your invites personalised? If so, collate all your names and addresses into an excel spreadsheet for your printer, they will then mail merge these for you, saving you the extra hassle of having to hand write all invites
- Do you have anything additional to post alongside your invites? Many of our wedding clients now choose to send items such as an RSVP Card, Information Card, Order of Day and Gift Card as a wedding stationery set.
If you're starting to consider the factors above for your wedding stationery, call in and see us! We love meeting all our brides and grooms to be and have a wealth of samples in stock for some inspiration. Call or email us for a free consultation on 02890022474 or weddings@kaizenprint.co.uk