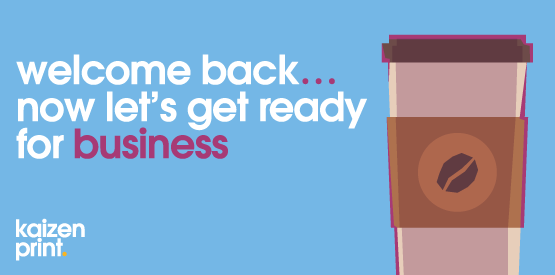 One of my most revered breaks from the office is over Christmas and New Years. We take an extended time off and this allows us ample time to recuperate after a busy year. 2015 was a massive year for Kaizen as a business, a year where we grew our customer base far and wide, increased our product offerings and all while not letting our current level of service drop in any shape or form. It was purposely set as such, to ensure the long term growth of Kaizen as a printer in Belfast and as a graphic design studio.
We back only a few hours, but 2016 is already shaping up to be a busy one for our customers. This excites us massively. Our plan for 2016 follows one and only focus:
Growing Together
This term growing together is exactly the premise Kaizen was built on. By providing sound advice and the ability to back it up with great design, print and online marketing, we gained the respect and trust of our customers who have remained our clients and friends, while systematically recommending us to many others. Our very first customers are still customers today and it's because we try to never let customers down and if the worst happens, we've always an alternative solution.
My focus and the focus of Kaizen throughout 2016, is to help all our customers reach the next level in their business, whether their goals are to increase profitability, increase their customer base or to secure their customers for the year ahead. We're taking our own experiences and the experiences of our customers to bring together best practices across all areas we operate in.
During my summer holiday last year, I pulled together a few blog posts on how to help our customers achieve more by implementing some ideas and taking action across sales and marketing. The few blog posts became 10,000 words and we're launching this tomorrow as an ebook and printed perfect bound booklet to those customers wanting to make big changes in 2016.
We're not charging for the booklet, but we ask if you feel the book provides any value at all to your business, that you donate 1/10th that sum to a charity of your choosing. Printed copies will be available from the Kaizen office on request.
This sales and marketing tips booklet titled "100 hundred tips" will be the first in a series of booklets, events and seminars across all facets of business we're planning to hold during 2016 and beyond.
To register your interest, please sign up using the form below. The ebook will be sent directly to you tomorrow and you'll be updated when our events, seminars and further books are released.
We hope you're ready to make 2016 huge and remember we're here to help at any time.