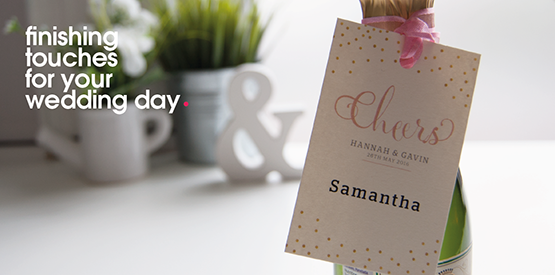 Here at Kaizen Weddings, we find that a lot of our wedding clients usually end up ordering last minute items for their wedding venues that they haven't previously thought about when first placing their stationery order. We'd really recommend when you're viewing your venue or getting closer to the big day to envision some of these added extras that will bring your venue and wedding day to life.
Some items that you may want to consider when viewing wedding venues and carrying out a final walk through of your venue prior to your big day include:
Welcome boards and posters
Get a welcome board or poster to greet all your guests with who are arriving to your venue. This is one of the first things they will see and will set the tone for rest of the big day. Get your board printed on a foamex style rigid board or frame your welcome poster.
Table names and numbers to match your wedding stationery
Another finishing touch to consider for your wedding reception is getting tables names and numbers printed to match your wedding plan and place cards. These will sit as centerpieces on your table and really add to the overall look of your table layout.
Tags for glasses and drinks
It's the extra special touches to the décor of a venue that really give that wow factor. Most recently, we have printed for a few of our wedding clients beautifully designed personalized tags for each guest's glasses or drinks bottles to sit at each table at the wedding reception.
Save the panic days before the wedding and check with your wedding venue what will and won't be provided and think about those added extras that can be forgotten!
Should you have your wedding coming up and need advice or wish to discuss any finishing touches for your big day, please feel free to call in and see us or email or call us on weddings@kaizenprint.co.uk or 028 9002 2474.