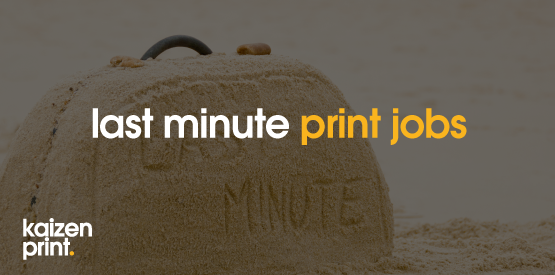 You've probably noticed some changes in the Kaizen office over the last few months. We have also and it's all part and parcel of our continuous evolution to better serve the needs of you, our customers. By always focusing on being the best in our industry, we set challenges and goals far above that of other printers in Belfast. This strive to be best in class stretches right across every function in our business, from design, through to print and finishing. Not only that, but we have redeveloped our customer experience to ensure you speak to the right person as quickly as possible each and every time, whether you're on email, on phone or walk in to the Kaizen office right here in Belfast.
In the last few months, we've taken ownership of a brand new digital printer from Xerox, the Xerox Versant 80. This addition to our digital printing range will add twice the capacity and speed up the printing of some of the trickier, more specialised products we print.
As a digital printer, speed, quality and price are all critical to our clients requirements and this is something we as a printer focus on dearly. It affected our purchasing decision no end, as did the service provided by Xerox. Their attention to detail and speed of getting our machines back printing flyers and posters if it happens to go down matches our own and is something that provides peace of mind for our business and should do for yours too
This new addition to our digital printers adds approximately 100,000 more possible pages printed per month, so we've got great opportunity to grow our business right across Belfast and beyond.
The Xerox Versant will help us on many of our most commonly printed items including:
Flyers
Posters
Business Cards
Leaflets
Booklets
Wedding stationery
Stickers
In fact our entire small format range is boosted by this machine and even the hard to replicate colours and finishes have been assisted by this purchase. We're extremely excited by the prospects the printer brings and also the ability to meet the demands of our current customer base even more efficiently.
If we haven't already shown you around the new production suite, please do ask next time you are in. Our printing equipment is state of the art and our investment into this equipment is to ensure we meet the very highest levels of standards we set for ourselves. Finally if you need any printing here in Belfast, you can always get us on 028 9002 2474.