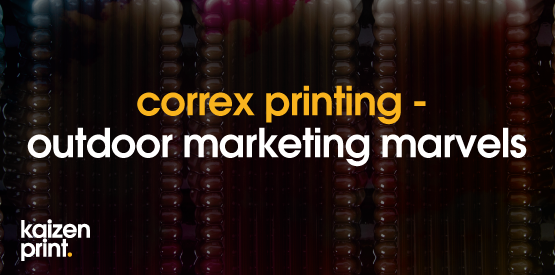 Our correx printing services are becoming even more popular than ever before. This is all down to the launch of our brand new website and the focus on all the existing products we print but had no opportunity to promote them on our previous Kaizen Print website. Fortunately, our new site will grow as our business grows and we can now display all the products we can print in Belfast right here online.
If you are unfamiliar with correx, let me bring you up to speed. Correx is a corrugated or fluted PVC, that is cost effective to use for inside and outdoor marketing boards. Due to its manufacturing process, it is crack resistant and flexible, making it the perfect tool for application in high use areas. All the correx we provide is fully recyclable and all off cuts are sent to the recycling plant for this purpose.
Correx has the extremely beneficial property of being waterproof. This makes it ideal for outdoor use and you'll see our boards being used for display boards, signage, temporary signage, hoardings, trailer graphics and estate agency boards to name but a few. It is extremely durable and versatile marketing tool.
There are many different thicknesses of correx, but we use a 4mm board as this covers the majority of uses for our customers. We are always happy to order it a different thickness on your request. Correx panels come in 8ft x 4ft sheets making them ideal for very large displays, especially when tiled together. Recently we completed a project where 180 8ft x 4ft correx boards where tiled together to make the perimeter of a building look more appealing. The extended hedgerow we designed and printed framed the entrance of the building site to engage potential buyer on their approach to the site. Something we are told has worked extremely well in practice.
Our studio are always on hand to design the perfect graphics for your project. To start the process, we'd need a quick brief on the use of the boards, what the focus will be and possibly some samples of work you like and dislike. This helps us clearly understand the project and bring to life the best graphic design possible. If you want to talk to our design studio, please call 028 9002 2474 and we'll walk you through the process.
If you require correx printing only, our customer service team will be able to assist you. The average lead time for a single correx board is 48 hours. This of course can be reduced if needs be and deadlines are looming. Just get in touch with our team and we'l manage the project for you.