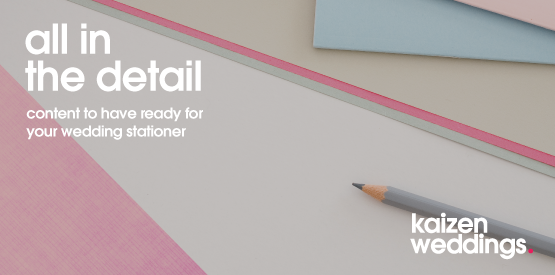 So you've decided who you are using for your wedding stationery – now it's time to pull together all the information that you want to put on all your items. Here's our full proof check list and some suggestions that you might not have thought about!
Wedding invites – Full Day
The wedding invite itself will contain all your basic information about your day, including the time, date and location. Information to also think about for your invite include:
- Wording on invite – from parents or from couple themselves.
- Personalisation – do you want a generic invite, a space to write in names or your stationer to personalise names on invites for you?
- Dress Code (if required)
- Further information- You may opt to put information such as the itinerary for the day on your invites, such as details of a drinks reception or when a group photograph is taking place.
Wedding Invites – Evening
The layout for this invite in most cases will be similar to your day invite. Have a think about when you would like your evening guests to arrive and provide them with details of date, time and location.
RSVP
Your response details for your guests can either go on the invite itself or as a separate card for your guests to send back. If you are doing a separate card, you can also use the back of the card to put additional details such as menu choices or gift list details on. Information included on your rsvp card or on the rsvp section of your invite should include:
- How many guests attending from couple/families
- Return Address
- Menu choice (if required) and dietary requirements
Directions to the venues and information for the day
Increasingly popular products at Kaizen Weddings are direction and information cards. Many people find these items are a nice touch to go alongside your invite and is of great benefit to your guests. We can create bespoke maps and itineraries for your big day , all you have to do is let us know where you want the map going from and to and the plan for the big day and we can do the rest for you!
To book a free consultation with our wedding team today, please call us on 028 90022474 or drop in and see us at the studio!