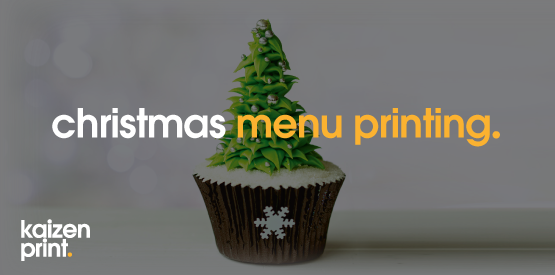 You started marketing Christmas dinners for your restaurant in June, but reservations started in January. Yes the joys of being a restauranteur and a marketer are year round. But now in November and December we get down to business. It's time for the onslaught of the "once-a-yearers". Well my friends, we're here to take the stress away from printing your Christmas Dinner menus.
Today we bring you a round up of types of the menu printing we can provide for this coming Christmas Party Season.
What type of print do I need for my Christmas Menus?
When printing restaurant menus, the main concern is the length of time the menu is to last. For this reason we offer various types of menus to suit all uses.
Single Use Menus
When your menu is only to be used the one time or maybe a couple of times at most, the most cost effective way to print your menus is on our 120gsm uncoated paper stock. Cheap and fast, or even cheaper and a bit slower, these menus can be printed en masse to ensure the most cost effective printing method.
Heavy Un-laminated Menus
Printed on a 350gsm silk card stock, our heavy un-laminated menus are perfect for short term use. We can't guarantee they wont be in tatters come the end of the party season, but because the cost is relatively cheap they can be replaced when needed, especially with the low minimum order quantities of as little as 20 per order.
Laminated Menus
Printed on the same 350gsm silk card stock as our unlamented menus, we add an extra layer of durability with a choice of gloss or matt laminated. These menus are perfect for Christmas parties as they are wipe clean and should last through the Christmas madness. Suitable for 1-2 months use.
Heavy Laminated Menus
The daddy-mac of menu printing, our heavy laminated menus are treated with a 250gsm micron ultra thick matt lamination. We've had extremely busy restaurants use these menus for upwards of 4 months and only changing them because their menus were changing due to the seasonality of their food. We're pretty proud of these menus and they are our best seller for a very good reason.
Design sells!
With all things print, it's the design that really makes printing stand out. We always recommend you engage a proper design studio to create you menus. Nothing screams unprofessional like a menu designed by a KP in word or publisher. We have a studio of 6 full time graphic designers working tirelessly to make design better and over the years we have brought tired menus back to life with a mix of great design and typography. We'd love to help you too!