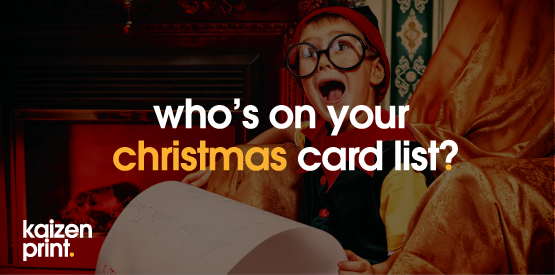 Christmas has come to the Kaizen office even earlier than usual this year as our Christmas booklets are now ready for distribution all across the land. Santa himself couldn't deliver our brochures faster and like a hover board, or a bottle of wine, our brochures are being received with open arms. Christmas is the time to reconnect with those customers you may only work with seasonally as a timely reminder them you are still in business.
This year we've extended our Christmas and New Year promotional materials in line with the added products to the brand you Kaizen Print website. From Year Planners to Wall Calendars, Desk Pads and of course an enhanced personalised Christmas Card range, we've your Christmas and New Year marketing all wrapped up.
Christmas Cards
Our Christmas cards are printed as standard on our amazing 350gsm silk card and come supplied with our luxury white envelopes, so all you need to do is sign them, lick and stick. We have a range of pre-designed templates that can be personalised with your own photo or logo, or for a completely bespoke option, our design team are only too happy to chat to you about a personalised and unique Christmas card for personal or business use. Even before the 80th rendition
Year Planners and Wall Calendars
Getting in front of your customers every single day of the year without annoying them could add thousands to your sales figures over the course of 12 months. With our year planners and Wall Calendars, these are sales tools your customers will be begging you for. With prices as little as 10p (15,000 A2 Wall Planners) per unit and a 365 day shelf life, thats a marketing cost of 0.02739726027397p per day. I'd say that's pretty good value for money.
Notepads
Two of the most commonly requested promotional items our own customers request are notepads and promotional pens. We always have both in stock as they are the perfect tools to increase your brand awareness far and wide away from your business. We don't print promotional items such as pens, but notepads are a bit of a speciality. Printed on our 120gsm uncoated paper stock, full colour on 1 side, we glue the sheets together with a hard back to make a durable note taking device. On average there's 100 sheets per pad, sometimes 1 or 2 more. You know, like a lucky dip, but the overall quantity of sheets printed always remains constant.
Want more information on our Christmas and promotional printing? Message us on any of our social channels and we'll get right back to you. Or you can always call us on 028 9002 2474 for a quick chat.