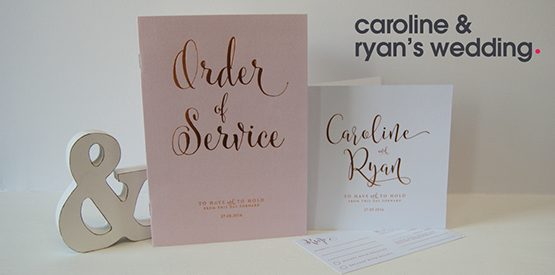 Here at Kaizen weddings we had another one of our clients, Caroline and Ryan, getting married last weekend at the Galgorm.
We met Caroline and Ryan back in February of this year and have worked with them on their whole wedding stationery set, including day and evening invites, order of service and place cards. Caroline had a very clear design brief in mind for her stationery. A beautiful rose gold script font with herself and Ryan's names, with a colour scheme of crisps whites and blush pink to match the colours of their big day.
Both Caroline and Ryan's day invites and order of services were foil blocked in a rose gold to give them that luxurious extra touch and to serve as beautiful keepsakes for their friends and family. The design theme of their invites was then carried across to their order of service and place cards. Caroline and Ryan's order of service was particularly special, with a blush pink card with white inner pages and foil blocking on both the front and back, turning this item of stationery into a masterpiece of its own!
We'd like to wish Caroline and Ryan all the best for the future and look forward to working with you on your beautiful thank-you cards!