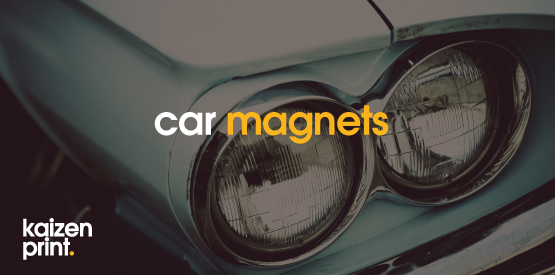 Car Magnets are the perfect temporary signage for your car and van. Printed onto our high quality long lasting vinyl and then applied to a durable magnetic backing, these car magnets won't flyer off your car and will ensure your vehicle is branded to the max....when you want it to be. Our magnetic signs can generally be applied to van doors, car doors and also along the side of metal trailers. They provide an opportunity to present a strong message as you drive along the road. Then when you want to become "unbranded" the car magnets can be removed in seconds and stored easily for future application.
Our car magnets are printed onto a 2 year guaranteed vinyl, however this really does depend on the level of use and abuse your magnets get and how many miles your car travels. But weve had customers with car magnets in use for a number of years and they look as good today as the day they were bought. We're confident in our products, so we know you will be too.
This product is slightly limited in size as the magnetic backing can only be purchased in rolls 600mm wide, however the length can be up to 2m long and so pretty much every option for your outdoor car magnets is covered.
Remember: Our magnetic signs are high quality, easy to apply and remove and make a huge impact for your business.
Alternative uses for this product includes fridges magnets for home and commercial use. One of our restaurant clients here in Belfast has branded their walk in fridges with magnets that identify which food type is in each fridge.
Raw Meats, Cooked Meats, Dairy and Veg are just a number of examples. As the location of the food stocks change with the seasons, having removable graphics on a magnetic backing save them the cost of reprinting vinyl stickers every few months.
We always have the magnetic backing in stock and vinyl is one of our most common printed products. This ensures that our lead times on these prints are super fast and your order is generally ready for collection within 24-48 hours. For extra durability of your car magnet we recommend laminated the vinyl as this will protect it from chips and scratches, both of which cars are prone to on their travels. There is a little extra cost on this, but if you plan on using your car magnets extensively, then I would suggest this added protection.
To order your car magnet today, please visit http://kaizenprint.co.uk/magnetic-signs and view all the sizes we run as standard. For more bespoke sizes, please get in touch with us via the contact page.