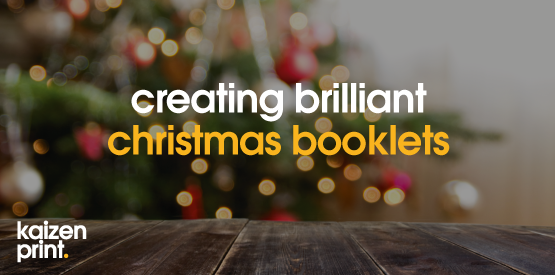 Christmas is a busy time for designers and printers. Normally for us Christmas starts in June when the hospitality trade come to realise they need their Christmas menus planned, designed and printed before customers start requesting bookings for their Christmas Dinners. Then Christmas comes around in October when those who engage in selling Christmas products or services plan to market their wares. Finally Christmas happens again in November and December when the remainder of businesses start to get into the Christmas spirit and plan to ramp up their own marketing material. we are no different and we fall firmly into the second category. In October we decided to update our Christmas booklet to distribute to our customers and the results have been fantastic.Today we talk about our Christmas booklet and showcase the concepts behind this so you can develop your own booklet for your brand.
Brand Guidelines
We're huge advocates of brand guidelines and consider our studio to be guardians of any brand we create. Christmas may be fully of glitter and gold, but if this does not reflect the business you are in or the services you provide then it would not be a good idea to shoe-horn these into you designs. There are plenty of ways to get the festive feeling into your artwork while remaining true to your brand.
Content Matters
Content is probably the second most important factor after design when creating a booklet. Yes we can make any booklet look fantastic, but if the content doesn't back the up you will be missing out on a huge opportunity to market to your customer base. Use a copywriter if you are not confident in doing this yourself. If you are, then ask someone with fresh eyes who isn't close to the project to proof read this afterwards. You will be amazed at what can be overlooked when you read a document over and over again. Pay specific attention to phone numbers, email addresses and website urls.
Selling Is Key
One thing that is key to remember with your booklet is that this is ultimately a sales tool for your customers and potential customers to buy from. Ensure you add "links to sale or purchase" throughout your booklet and that the focus of your content is engaging the customer to buy. Asking them to pick up the phone or to email you, will ensure that if the customer is interested in buying your product or services, that there is no barrier to purchase by them unable to find the right details when they need them.
Printing Booklets Of The Highest Quality
At Kaizen Print we can print your books in small quantities from 50 right up to 10,000. Depending on the pagination and quantity, we can help you decide on the most suitable printing options for your budgets. We offer both digital and litho digital booklet printing and this allows us to provide the most efficient printing options for your booklets. If you are unsure which type of printing is best suited to your needs, please just ask and we'll do our very best to advise.
To recap, if you need high quality and affordable booklet printing in Belfast we are your guys and can print from as little as 50 booklets right up to 10,000. Contact our customer service team on 028 9002 2474 or send us an email via the contact form.