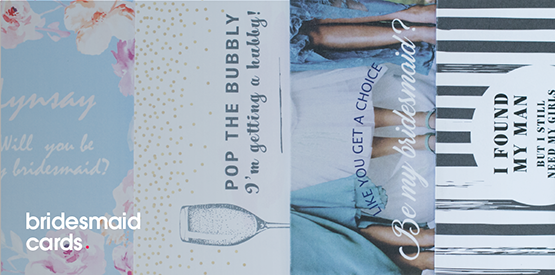 This week at Kaizen Weddings we have the launch of a new exciting product, Be My Bridesmaid Cards!
Bridesmaid cards are a great way to ask those near and dear to you to be a part of your big day and add to the initial excitement of being engaged and planning your wedding. It's amazing how much a simple gesture such as a card in the mail can mean to your bridesmaids and helps set a fun tone for the rest of the adventure that you are about to embark on!
We have created a range of cards designed to suit every bride to be, ranging from classic designs to those of you who enjoy a good joke! If you don't see a design that you like, we can also create a bespoke design especially tailored to your story, bridesmaid or big day!
As well as all these great designs, we also offer personalisation on all our cards, which really goes that extra mile and makes your card even more personal to your bridemaid. All our bridesmaid cards are a perfect pocket size A6 and printed on a beautiful 350gsm silk card. Our cards can be bought individually or in packs depending on your number of bridesmaids and shipped right to your door for your convenience.
If this sounds like something you'd like to do for your bridesmaids, visit our site to view our range of designs or email weddings@kaizenprint.co.uk or call in to see some samples and get some costs.