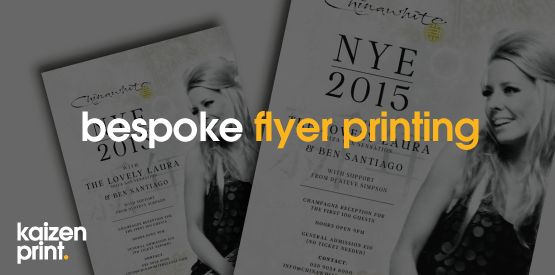 More and more often the hospitality businesses we work with are looking to differentiate their marketing from those around them. Yes it's true that pushing forward and innovating always breeds copycats, but by continuously improving your marketing, sales and promotional materials, you can ensure the customers see the benefit and recognise you as being a leader with your marketing. It's also great if you are trying to position your venue above that of your competition both in service and quality.
Since Kaizen was launched back in 2009, we've kept the majority of our suppliers, vinyl and paper stocks consistent. By keeping the papers the same or upgrading the vinyl, we're able to stand over any project we undertake as we know exactly how the job will be completed. However we have added to our paper range massively in the past 12 months by keeping a sizeable stock of GF Smith Frost White, Natural and Harvest papers.
The above range of papers are exquisite in their make up and perfect for adding that extra dimension to your print projects. They are particularly great for wedding invitations but also as you can see below for taking standard flyer printing to the next level.
Frost White
The frost white brilliant white paper is available in two weights 170gsm and 270gsm (closer to 350gsm to be honest as it is quite a bulky stock) and has a lovely textured finish.
Harvest
On a daily basis we're asked for Kraft Wedding Invites. However the quantity of invitations required for most weddings makes printing on to Kraft directly infeasible with the set up costs. The harvest paper is an extremely close representation, which can be digitally printed on at small quantities.
Natural
Natural is a light cream paper with a textured finish. The majority of the prints we produce are full colour on white, however digital printing does have the limitation that cream doesn't really print well on white. To counteract this we use Natural Cream to ensure those looking a very high quality cream paper aren't let down.
In the example below you can see a recently printed project for the New Years Eve event at China White. These leaflets were printed on GF Smith Frost White 270gsm and I'm sure you'll agree that they look fantastic. We can print as little as 100 flyers or as many as you need for your event, so get in touch with us via the contact form to get a bespoke quote for your flyer printing.