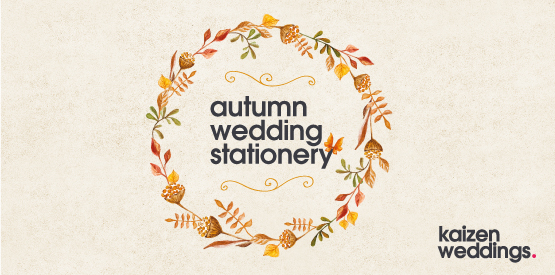 Now that many of our summer wedding clients have completed their stationery for their big day, here at Kaizen Weddings we are now looking ahead to the increasingly popular autumn wedding season. As autumn is full of such warm tones, foliage and beautiful colours, why not reflect that in your wedding stationery if your big day falls within this season.
We've put together some ideas and inspiration for your autumn wedding stationery!
Kraft and cream textured card
It all starts in the card. Cream and ivory coloured cards alongside Kraft cards are perfect for autumn wedding stationery, reflecting the naturistic and subtle tones of Autumn.
Autumn inspired colours
Autumn is full of warm reds, oranges, browns and golds. Greens and purples can also work really well with these colours, which can create a strong print on your wedding invites and will set the tone for the rest of your big day. You can then continue this strong colour theme throughout the rest of your wedding stationery on items such as table plans, place cards and venue signage.
Copper and Rose Gold Foil Blocking
Throughout all seasons, we find that rose gold foil blocking is particularly popular with our brides. If you are looking for a just a subtle hint of the season on your invite, a rose gold foil block is a great way to do this.
Leaves, trees and seasonal inspired photographs
It's not only the colours that can mark the season on your wedding stationery. We've noticed that popular designs for our autumn wedding stationery include floral patterns and tree shapes. Alongside this, we've had couples who have been inspired by photographs taken in the autumn and have decided to use these as the basis of their design.
Coloured and patterned envelopes
If you don't want to concentrate too much on the autumn tones on your invites, rsvps or information cards, a nice touch to reference the season is a strong autumn inspired coloured or printed envelope. Autumn patterned envelopes liners are also a subtle reference.
If you are starting to plan your wedding for this autumn, now's the time to start thinking about your stationery! For a free consultation with one of our Kaizen Weddings team, please call or email us on 0289002 2474 or weddings@kaizenprint.co.uk