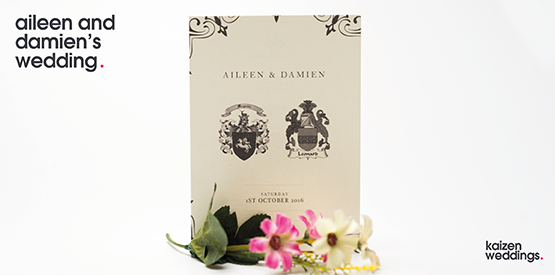 This weekend we see one of our brides to be, Aileen, get married to her fiancee Damien in Sacred Heart Church and celebrating at Mill Park Hotel, Donegal after. Here at Kaizen Weddings, we pride ourselves on the bespoke styles of wedding stationery that we can create for our clients and we loved working to Aileens unique brief, as indeed it was a design style that we hadn't carried out before.
Aileens initial brief to us was that it was really important to her that we incorporated the coat of arms from both herself and Damien's families into the main design of the invite. This was something that was personally significant to Aileen, as the coat of arms that would be shown throughout her wedding stationery was to show the coming together of their 2 children and families, so we tried to reflect this as much as possible throughout the design.
Our first task was locating suitable coat of arms images that could be designed together and that Aileen was also happy with, and after a lot of searching, we got the perfect combination that Aileen was delighted with. The coat of arms on the design for Aileens invites was the main feature, as it was so personal for her. We printed these with black design on a beautiful textured cream card, which printed great. Black design on kraft and cream cards are really simple yet effective and lets the special card types really blossom whilst your text and images still stand out strong.
We have many clients coming to us who think things aren't possible to be created for their wedding stationery or have something a bit more unique and personal and we would strongly advise to give us a call or email and we are more than happy to advise, if you don't ask, you don't get!
Should you be preparing for the big day and are starting to consider wedding stationery, why not call in and see us in the studio or give us a call or email on 0289002 2474 or weddings@kaizenprint.co.uk