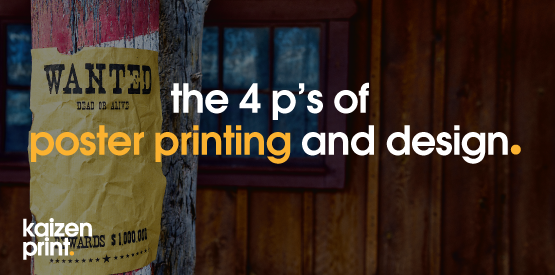 We can print posters right up to 1.3m wide by any length, however the most common poster printing size would most definitely be an A1 poster. All our large format posters are printed on a 160gsm matt coated paper. We have tried silks, satins and gloss in the past but have found that the matt coated paper gives us the best overall finish, speed of drying and the all round best colour representation when printing all manner of posters for business and personal use.
Today we're bringing you our top 4 tips to help you create the perfect poster print each and every time. By taking time to review and target your poster design in the best manner you will be able to aim and direct the design in a much more structured approach.
People
Who is the poster targeted to? Will the message be communicated to them in a manner they will understand and will it do it effectively? Use fonts that appeal to your customers nature, focus on their wants and needs and direct your design in a manner that will attract this type of customer.
Purpose
What is the end goal for designing your poster? What are you trying to achieve by it printing copies of this and distributing them. This should always be the first thought any designer has within a project. Not, oh I saw this really cool type, I wonder how I can shoe-horn it in somewhere. Or I must copy this really cool design I saw on behance. What the poster must do is sell or educate and this must always be the primary purpose.
Point of Interest
Every flyer and poster design should have a point of interest or a feature point, something that demands attention and entices the potential customer to read through the rest of the design to gather the important information.
Printing
A1 posters generally need to be digitally printed in individual runs, however if you have a single poster you want to print as say a wall planner, this can be done at a larger scale and gaining economies of scale and lower unit costs in doing do. Otherwise you can benefit from single A1 poster printing and the speed of service associated with large format printing.
Overall poster printing shouldn't be tasking and with a few simple considerations early on in your project, you can ensure a hugely positive outcome. If you need a hand or want to share some of your thoughts with our team, we are always on hand to lend an impartial thought on all print and design matters. Remember we do this everyday and have amassed a wealth of knowledge that you can take advantage of.
Leave a message here or contact us via the contact form.