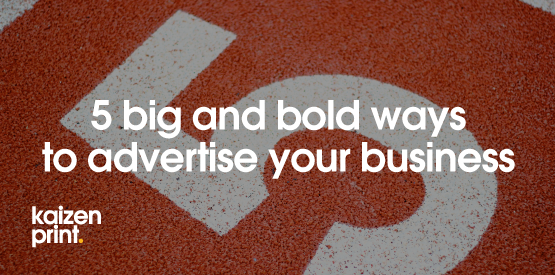 Big is beautiful and we're not ashamed to say it. Sometimes your business is so good, it deserves eyes on it at all times. At Kaizen, we want to give you that chance to advertise your company, business or even yourself in a big way. So here are five Kaizen products that are big, bold and beautiful.
Posters
Let's start with something simple. Got a message ? a logo ? a design ? Get a poster. Well, get a few. Anyone who knows anything about marketing knows just how effective a simple poster can be. They can go almost anywhere, indoor or outdoor and people will look at them. Make them bold with your choice of designs, logos and fonts, and you could attract even more potential customers. They're inexpensive too, making them perfect for making a big impression on a small budget. At Kaizen we offer Posters in sizes ranging from A2 to A0, meaning we have the ideal size for any occasion.
Forecourt Overbags
They may not sound like the most attractive proposition, but these things do work. Forecourt overbags are ideal for a cafe, restaurant, salon or anywhere you need to advertise outside. These hard-wearing, robust sleeves won't be damaged by the weather and our eight colour ink system ensures a high quality finish. We also supply the stand and frame for the overbag, so you know the quality of the structure is just as good as the finished print.
Roller Banners
The only thing better than getting value for money on one banner is getting value for money on two. Our roller banners can be printed double sided so you get twice the marketing potential. These are perfect for displaying inside an office building, cafe, bar or any other indoor space you can think of. With Kaizen's high resolution print and design service, there's no compromise on quality. We even supply you with a solid metal frame and a padded carry case for easy and safe transportation.
Magnetic signs
Just because you're on the move, doesn't mean you should miss out on a potential advertising opportunity. Our magnetic signage is designed for vehicles such as vans or cars and the high quality print means they can be as colourful as you like. And, if your business changes, or you want to sell the vehicle, our signage can be easily removed without leaving any residual mess behind. The material is strong and won't be affected by harsh weather. We fully expect to last up to three years. Don't pass up on a unique marketing opportunity and give Kaizen a call today.
Contravision
Even if you're not 100% sure what contravision means, it just sounds cool. Helpfully, the product itself is pretty cool too. Contravision refers to a one way vinyl adhesive which is placed on a window, or to put it simply, a window graphic that doesn't stop you looking out the window itself. You've probably seen these before due to their wide variety of uses. They can be pasted on shop windows, taxis and even bus shelters to create a unique and vibrant way of marketing your product, company or business.